Installers UK
Installers UK is a rapidly expanding company, providing surveys, recommendations and approved installations for a broad spectrum of energy efficiency measures in homes across England and Wales. From cavity wall and loft insulation through to new boilers installations and Energy Performance Certificates (EPCs), the company is working hard to limit the carbon footprint of the UK's housing stock. It works closely with homeowners and private landlords alike to connect them to government grants that can cover the majority of any outlay on new measures.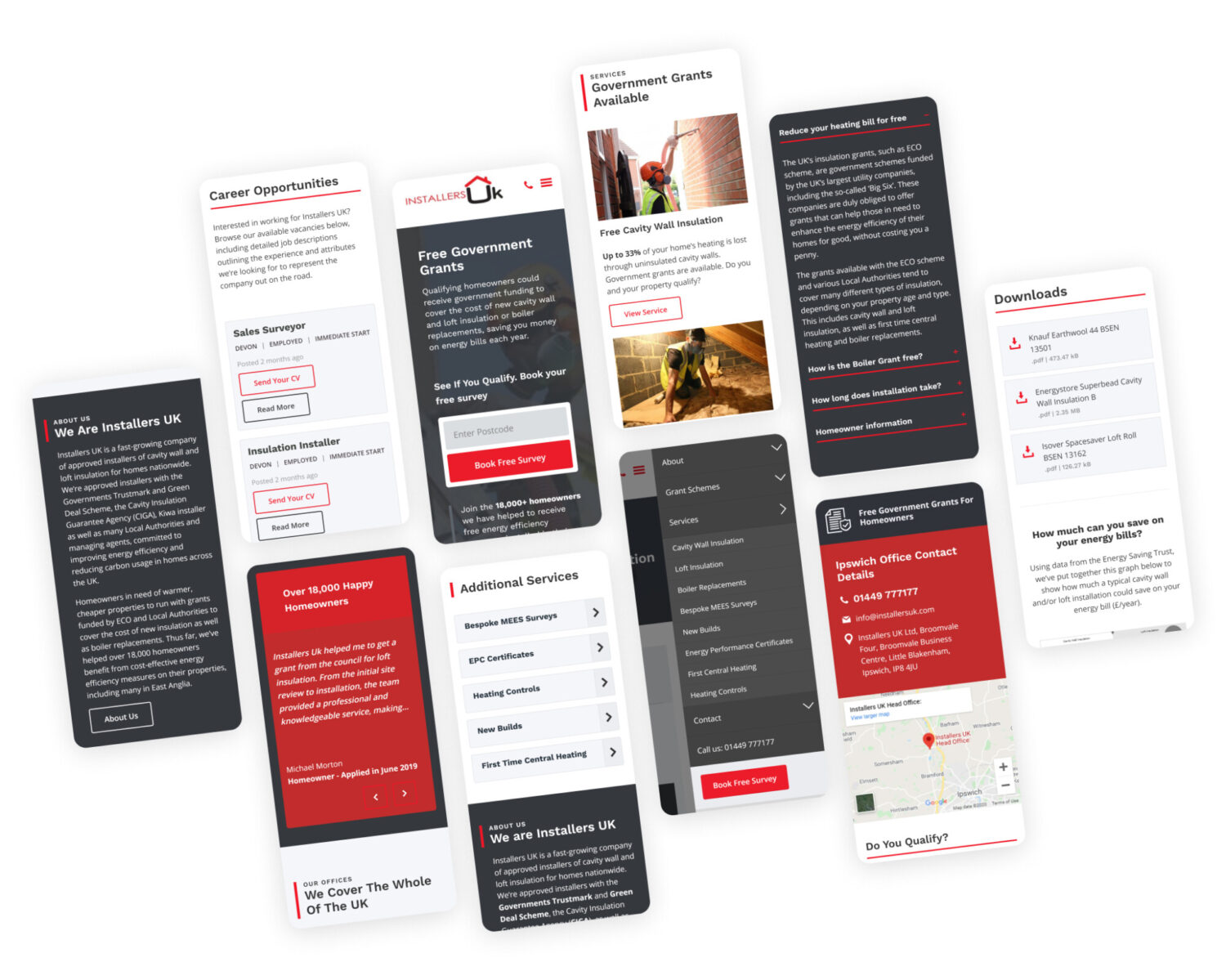 Our role in cementing the visibility of Installers UK in new servicing areas
The overarching remit from Installers UK was to expand its digital reach, gaining visibility within its new servicing areas, notably North Wales, South Wales, East Anglia and Leicestershire. With a very specific target audience, our team identified paid advertising as the simplest route to driving short-term website traffic and lead generation, whilst laying the foundations for the client's SEO to drive long-term organic traffic to its new website.
Our team created PPC campaigns on Google, Bing and Facebook from scratch, delivering new customers to Installers UK with strategic targeting based on demographics and user behaviour. As the company now seeks to focus on nationwide growth, we have continued to evolve our campaigns to help them push the boundaries of growth based on the previous six months.
61%
Reduction in the client's cost per lead on Google AdWords in just six months
17.66%
The average website conversion rate from Google AdWords and Bing Ads
"We have been using the services of Unity Online since the start of lockdown and our business has totally transformed. Within weeks our work quadrupled. Turnover went from 200k to a million a month within just 8 months and we still are playing catch-up with orders and expansion"

Alex
Installers UK
Almost one-in-five visitors from Google and Bing now convert
The latest figures from our PPC campaigns on Google AdWords and Bing Ads suggest that our team is driving relevant paid traffic to the Installers UK website. 17.66% of all visits from our targeted PPC ads go on to convert and make an enquiry with the company, on average. This suggests that we are helping to reach and inform homeowners and landlords of the client's services and what is possible under the new government guidelines for cavity wall insulation.
Cost per lead more than halved in six months
In the last six months, our PPC consultants have not only managed to improve the conversion rate of paid traffic to the Installers UK website, they have also more than halved the cost per lead from Google AdWords. It has dropped by 60.92% and is now at an incredibly low cost per lead.
Targeted paid social advertising
In recent months, our paid advertising consultants have also introduced the client to powerful Facebook Ad funnels. Through strategic targeting and retargeting, our Facebook Ads campaigns have delivered just as many conversions as our Google AdWords campaigns, at an average cost per lead even lower than from Google Ads.
More Client Experiences
From day one, our expert team of designers and developers
Results-driven digital marketing agency
We are a results-driven agency focused on Driving you revenue