Abbeygate Lighting
For more than 40 years, Abbeygate Lighting has supplied the finest decorative lighting across East Anglia. With three stunning showrooms across Suffolk and Norfolk, Abbeygate Lighting is a business passionate about delivering first-class customer service, with stylish and elegant lighting solutions at competitive prices. The company works hard to keep abreast of all the latest lighting trends from contemporary to traditional, transforming home interiors across the eastern region.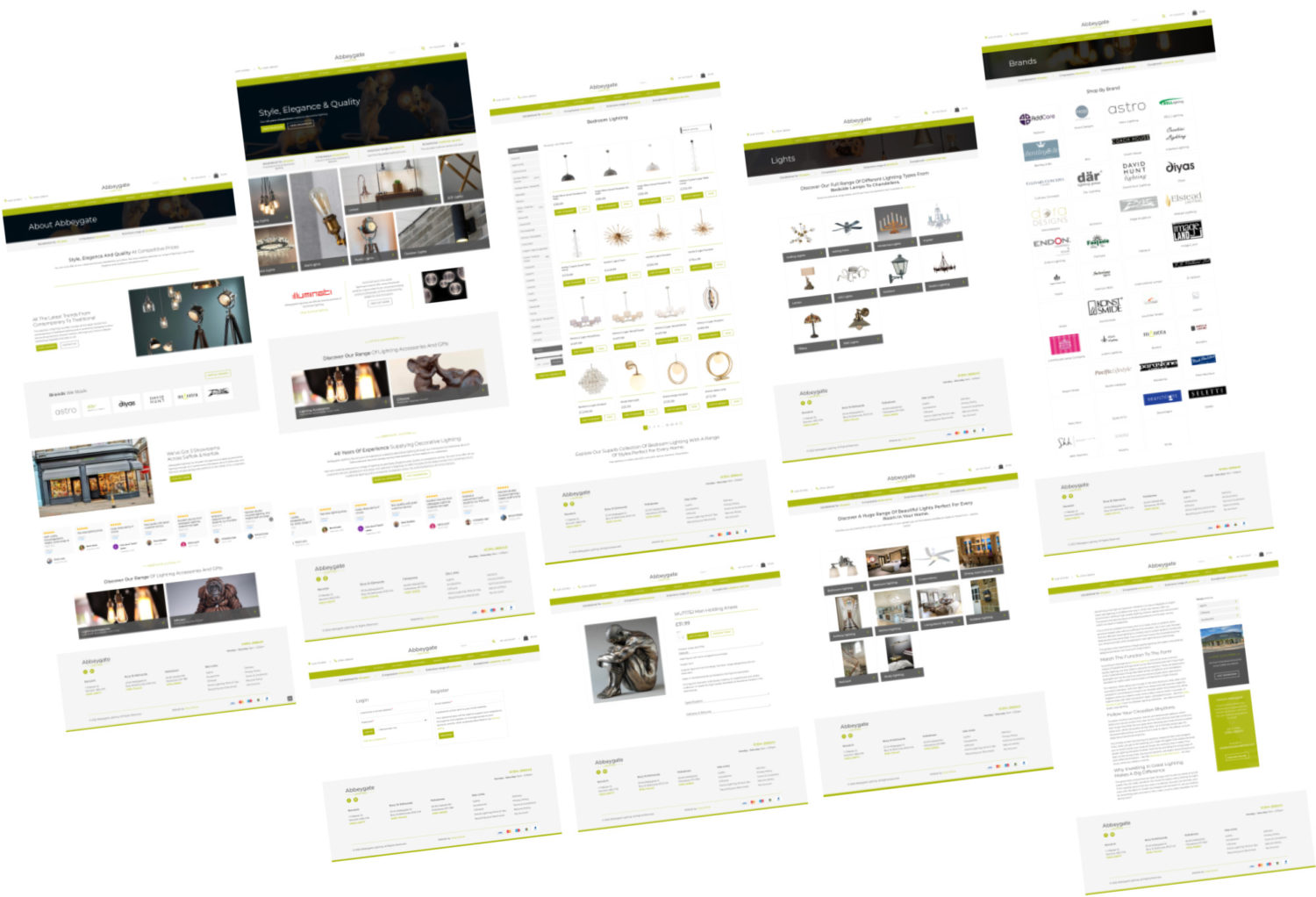 Our role in futureproofing the Abbeygate Lighting brand online
The client's legacy website was tired and the business required a more flexible and functional website that could better articulate the business' products and expertise. It was essential for the new website build to deliver a fully responsive user experience, enabling users to browse and buy via mobile devices as well as desktops. During initial consultations, there was a sense that conversion rates had previously been hamstrung by inadequate mobile UX.
The new image-led website design ensures better visibility and integration of customer reviews and testimonials, which now sit proudly near the footer of the Abbeygate Lighting homepage. The client's new ecommerce website benefits from an intuitive content management system to maintain product descriptions and specifications with ease, whilst accepting all popular payment methods, including e-wallets such as PayPal.
Clarity and UX at the forefront of this resdesign
The client required a new website that was aligned with the style, sophistication and quality of its decorative lighting products. The design needed to offer on-page clarity, with a font and that was easy to read on any device and screen size and an orderly, decluttered navigation menu.
Powerful ecommerce features
One of the primary objectives of Abbeygate Lighting's new website project was to improve its ecommerce functionality and drive sales online. The new ecommerce platform now permits the client to utilise vouchers and discounts to close transactions with loyal, existing customers as well as first-time buyers. The addition of a new related items section titled 'You May Also Like…' also helps to retain user interest and minimise bounce rates.
Fully responsive to capture mobile browsers
Google has been adopting mobile-first indexing for some time, using mobile website versions to index and rank the sites that offer the best user experiences. It was imperative that the new Abbeygate Lighting site employed a mobile-first approach to maintain its organic presence for revenue-driving search terms in the major search engines. Mega menus help to retain a sense of order. Users can find the relevant categories and products they are looking for within a few taps of their smartphone or tablet.
More Client Experiences
From day one, our expert team of designers and developers
Results-driven digital marketing agency
We are a results-driven agency focused on Driving you revenue