Mead Construction
Established in 1985 as a groundworks company, Mead Construction has since expanded into Plant Hire, Grab-Away, building supplies and homebuilding. The company now has a 50-strong workforce and remains a family-run business. Mead Construction operates one of the largest grab fleets in Cambridgeshire and Suffolk, along with over 200 items of heavy plant and machinery.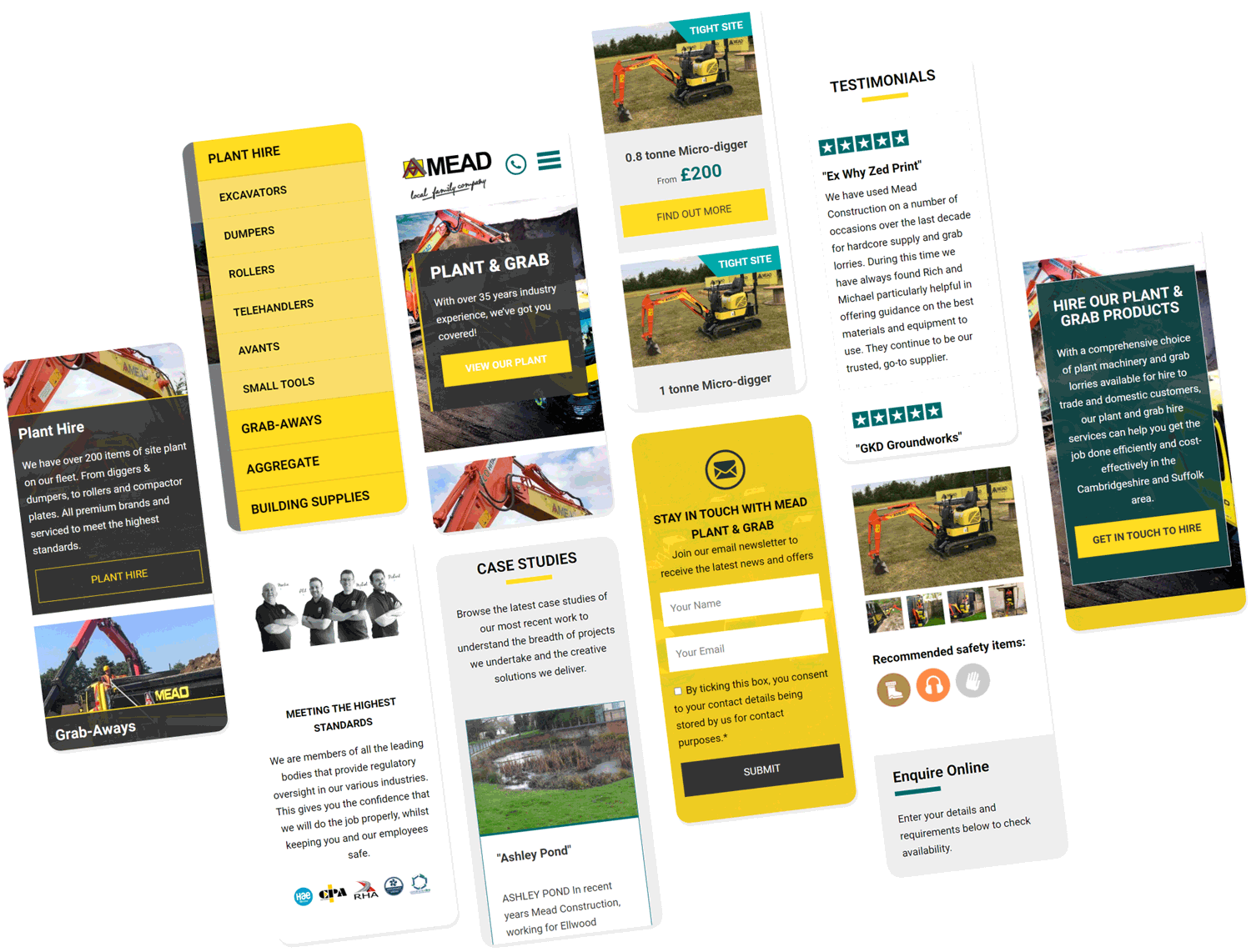 Our role in unifying Mead Construction's services under one roof
The number-one challenge with the Mead Construction development project was to combine all the client's in-house expertise and services into one overarching website. With a philosophy focused on delivering end-to-end in-house solutions for its own clients, it was important to ensure that each division of the business had a dedicated section that was highly visible within the navigation menu.
With one of the largest fleets of plant hire in Suffolk and Cambridgeshire, it was important to design and build a plant hire section that demonstrated – both textually and visually – the breadth of machinery and equipment available to domestic and commercial customers.
Visible reviews and testimonials that build brand integrity
One of the core objectives during this website build was to embed dynamic reviews and testimonials from recent Mead Construction clients. This reputable and genuine feedback, outlining Mead Construction's approach to problem-solving and exceeding expectations, all helps to build trust and integrity in the brand.
Intuitive content management for plant hire updates
The client's Plant Hire section needed to be the most agile and dynamic section of the website, given that the business needs to be able to easily update and manage available plant hire online. We recommended the WordPress content management system (CMS) that would make it simple to update product pages and specifications.
Image-led categories to drive aggregates conversions
The client also needed an Aggregates section that visibly presented the types of loose aggregates available to customers. Image-led category sections provided examples of aggregates in situ, with recommended 'typical uses' listed on product pages to provide inspiration to prospects and drive enquiries.
More Client Experiences
From day one, our expert team of designers and developers
Results-driven digital marketing agency
We are a results-driven agency focused on Driving you revenue