Aramar
A gold IBM business partner specialising in the IBM Analytics suite, Aramar deliver expert consultancy services and supply software licences for IBM. Their consultants focus on everything from financial consolidation and reporting, to planning and budgeting, while implementing reliable software solutions for clients. Established in 2010, they are in the top 10 corporate performance management solution providers – and their website plays an important role in communicating the breadth of their services and expertise of their people.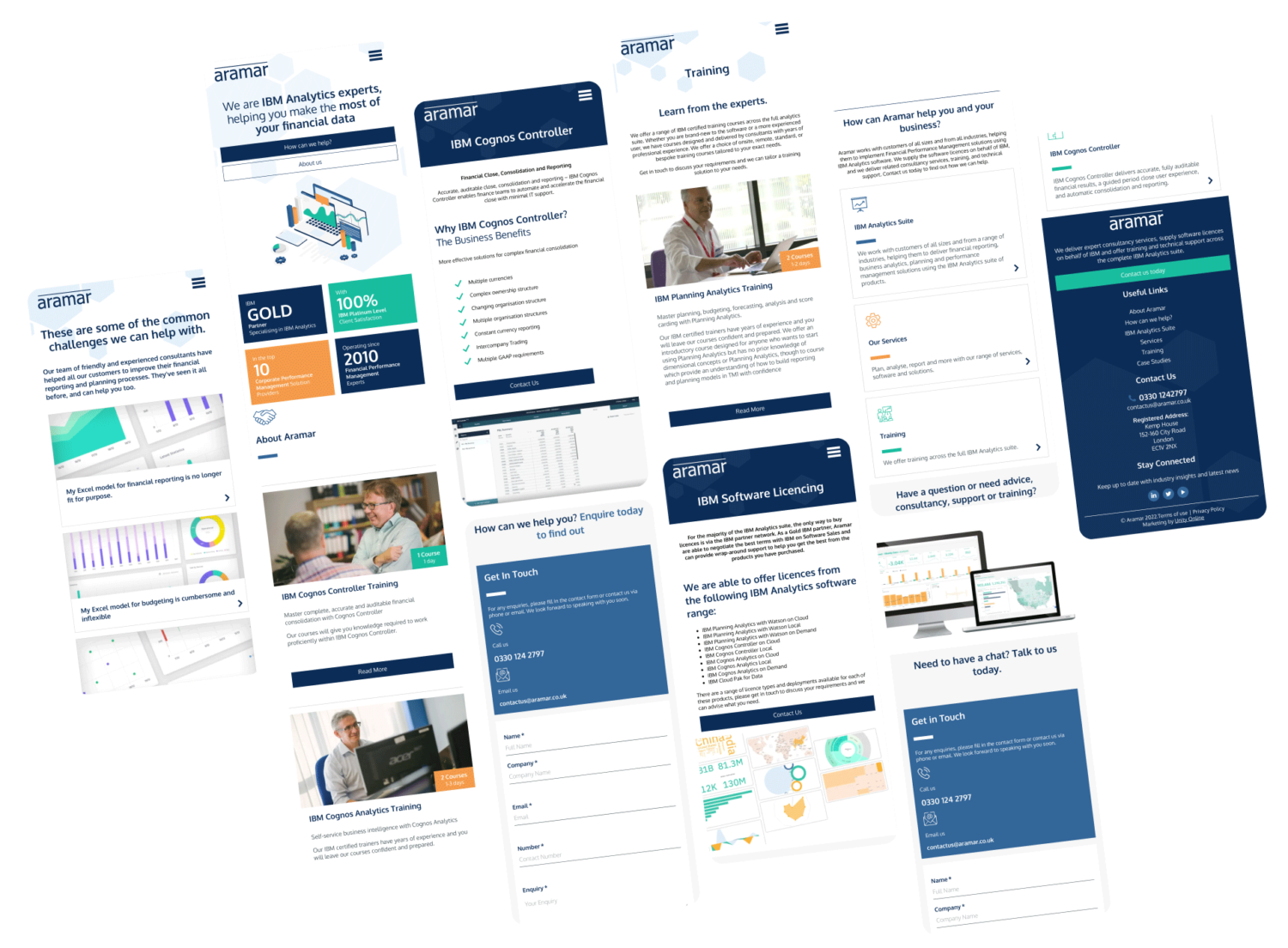 Our role in helping Aramar plan for the future
Aramar approached our team to redesign their website with a relaxed look and feel that reflects their target market. To stand out from competitors, they wanted something that was fresh and modern, which would illustrate their expertise in the full IBM Data Analytics suite.
It was also important to explain their services in a clear, concise way that was accessible for all clients. This included creating smoother user journeys through the website and making it easier to navigate to the right solution. The finished product shows that Aramar are far from the stuffy consultants you might imagine when you hear the term data analytics.
Streamlining user journeys
To ensure potential clients understand how Aramar can help them, we created a "How can we help?" page which covers some of the most common challenges that the team can resolve. This helps establish a personal connection with the user and their problem and also demonstrates the breadth of Aramar's expertise. By using their marketing personas to inform this section, Aramar should see an increase in relevant enquiries.
Creating a relaxed look and feel
Aramar wanted to reflect the friendly, approachable nature of their team in their new website. With this in mind, we crafted a clean, minimalist design with plenty of white space and a simple colour scheme. Balancing bright graphics with bite-sized copy ensures that information is easy to digest and also means that the design translates well to mobile browsing.
Ensuring easy editing
Building the website using WordPress has ensured that the Aramar team can easily update the content for a quick refresh or to add a new service. This will allow them to upload further case studies in house, which are a great resource for converting potential clients into new clients.
More Client Experiences
From day one, our expert team of designers and developers
Results-driven digital marketing agency
We are a results-driven agency focused on Driving you revenue