NET LED
NET LED Lighting is one of the UK's leading suppliers of commercial and industrial LED lighting solutions. The company distributes state-of-the-art lighting designs from well-established brands across the UK, Europe and the Far East. Since its formation in 2009, NET LED has rapidly established a proud reputation among electrical wholesalers and regional tradesmen as an LED lighting partner they can trust and plays a key role in the industry as an approved member of the Lighting Industry Association.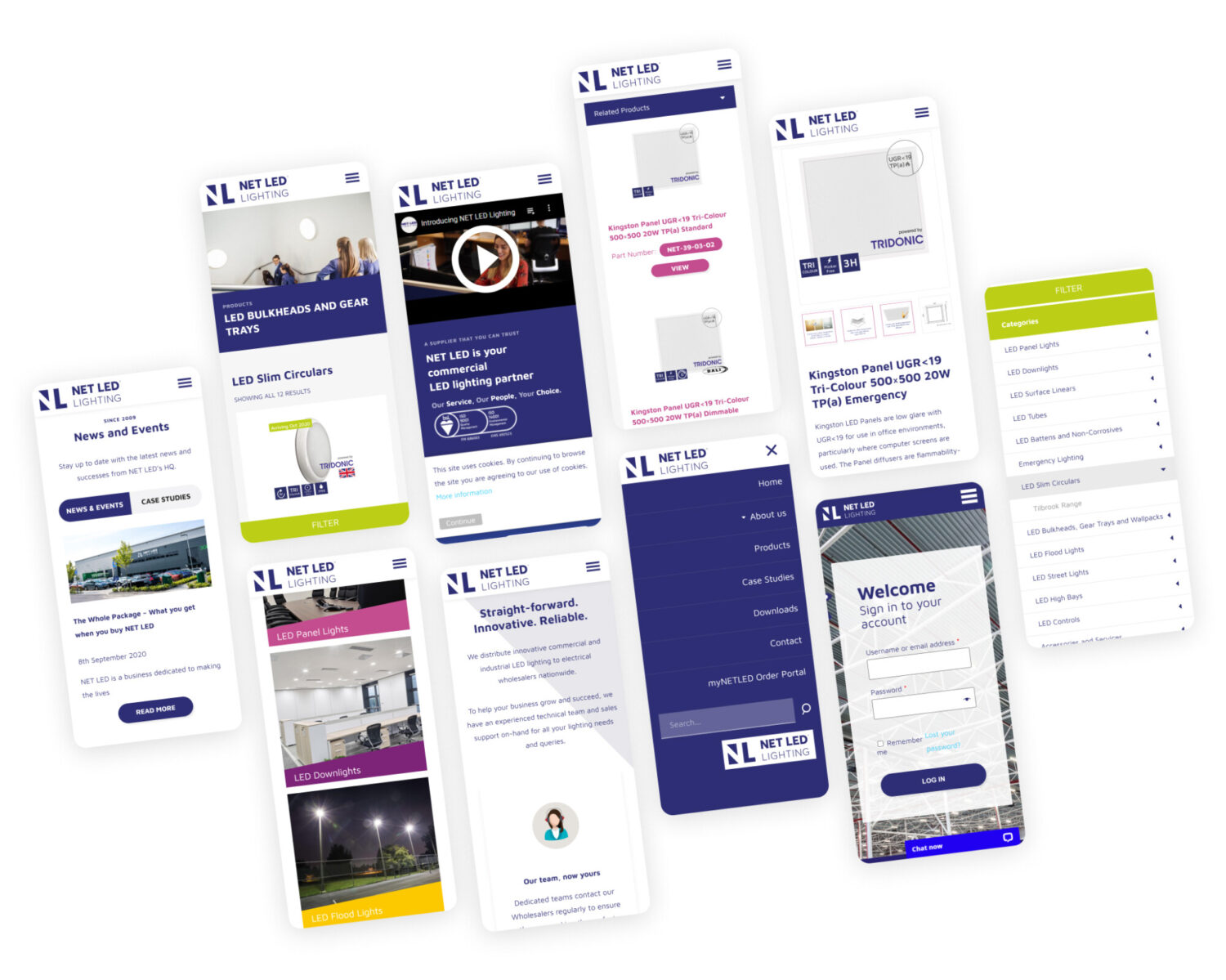 Our role in increasing NET LED's digital footprint within a growing market
We were approached by NET LED with the objective of growing their business online. The UK lighting market is worth an approximate £18 million and the client was keen to increase its share of the industry. In our early-stage consultations, the client noted a growing trend for wholesalers searching for LED lighting solutions online. Our primary objective has since been to build a digital solution to cater for this growing demographic.
We designed and built two new websites for the client. The first, one that was accessible to all customers. The second would act as a portal for returning trade customers, complete with its own ecommerce and pricing solutions. The primary website utilises video and engaging imagery to highlight the full range of NET LED's products and services, with a content-led approach to outlining the business and its background. This is supported by a quality, functional domain, centered around loyalty, enabling the client to capture data on their best customers, providing them with unique offers and first-class servicing.
974
Brochure downloads completed since its availability in August 2020
62%
Average ad viewability rate for all display ads between July – September 2020
44%
Quarterly increase in catalogue page visits between July – September 2020
"NET LED are now proud to direct our customers to our NEW Website thanks to Unity. Not only does it have a more modern look compared to our previous design but most importantly its powered by Electrika Data so all technical updates are automated, We've been pleased with the service provided from the Team at Unity before, during and after the site has gone live."

Paul
Director
Growth of brochure downloads as part of the sales funnel
Our team was employed to drive enquiries for the client's products and services from wholesalers. The digital brochure was marketed as an individual asset, encouraging target and existing customers to download the NET LED brochure for future transactions.
Surpassing target ad viewability for display ads
To support the launch of the new NET LED website and its trade portal, our paid advertising consultants launched three advertising campaigns – retargeting across the Google Display Network, LinkedIn and Facebook, as well as Google AdWords focusing on competitors' product terms. We were tasked with delivering reach from the client's target audience, with a target ad viewability of 50%. On average, we achieved 62% viewability between July and September 2020.
Rising month-on-month visits to the NET LED catalogue page
The third core objective for the client was to increase visits to the NET LED catalogue page month-on-month. Our search marketing team has been able to drive 44% more traffic to this section between July and September 2020.
More Client Experiences
From day one, our expert team of designers and developers
Results-driven digital marketing agency
We are a results-driven agency focused on Driving you revenue