You know when you Google a company, and it shows you a snippet about them on the right hand side (see below)? That there is a Google My Business page. 
Did you know that 46% of all Google searches are local? Better yet, local businesses with a Google Map pin appear in 93% of all local searches.
Google My Business is a free to use platform where businesses can increase their reach by providing helpful information about their business.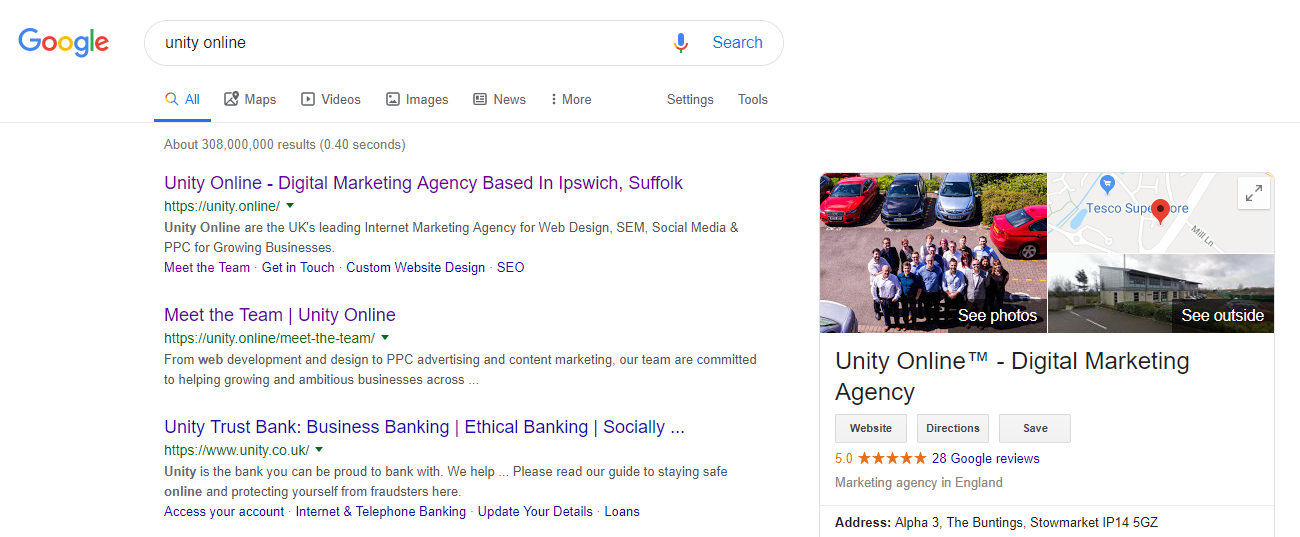 Google, in turn, then uses that information to connect you with more relevant users through Google search and utilising SERP features. It's a win win for both you and potential customers.
It's especially helpful for businesses who operate in certain areas. For example, if you're looking for a "marketing agency in Suffolk", you'll find us at the very top of the page:
By taking advantage of the Google My Business platform, we are able to show organically for several key phrases through SERP features. All this by simply optimising our Google My Business page.
But using the platform isn't common knowledge and many businesses are not using the platform to its full potential. That is why we have decided to pick out the more important parts of your Google My Business page in order to reach more local users.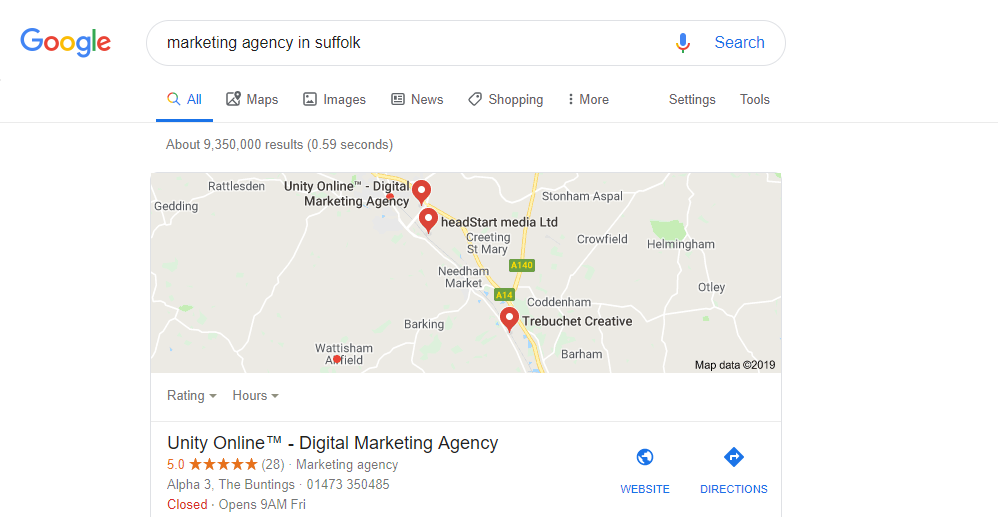 Setting A Service Area
In the past this was set as a radius of miles, however it has since been updated to be towns, cities and countries. Below is an example of what this looks like in practice: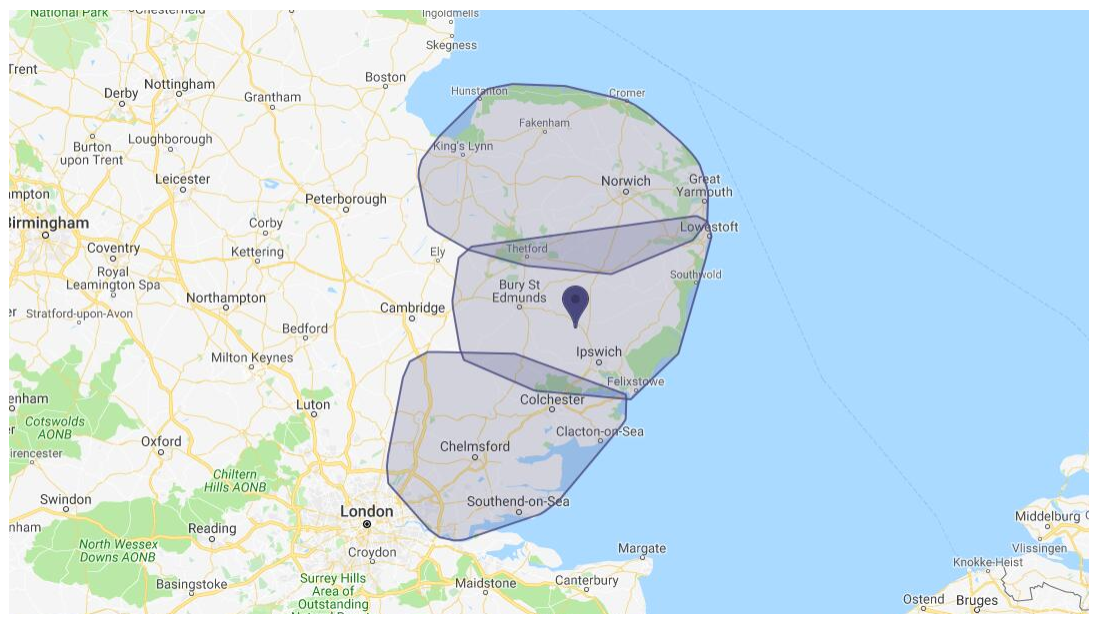 This gives you more freedom to choose specific service areas, where a circular radius may simply not 'cut the mustard'. For example, you wouldn't want to target users in the sea…
So, if you have 2 offices, you can target both areas. Although, it should be noted that different offices should ideally have their own Google My Business page and be placed into a location group.
This information then shows Google where you are operating and is more likely to show your Google My Business data for users within that target area. 
With 60% of mobile users mostly clicking on the first 2 to 3 listings, which is likely to be Google My Business listings, it's important to make sure you're targeting the right areas.
Encouraging User Reviews
Did you know that 91% of 18-34 year olds trust online reviews as much as personal recommendations? If that doesn't show the importance of reviews, we'll eat our hat.
One of the best and easiest ways to gain reviews, and have it positively impact your search engine optimisation, is using Google Reviews.
Notice something about the image below?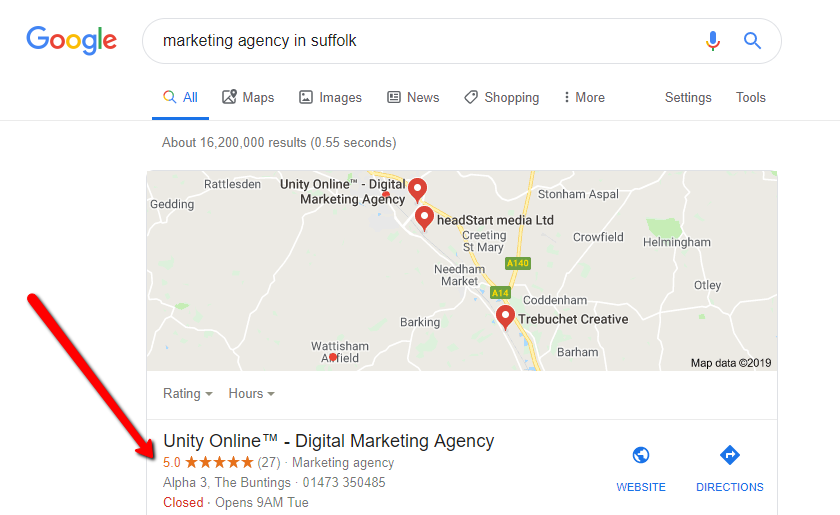 It places the most importance on reviews, over the positioning of the business and opening hours. A staggering 97% of users read reviews for local businesses, so it's important to get them and get them right.
They can also be applied to specific pieces of content, such as products and recipes. However, this is pulled from reviews from your website not your Google My Business page: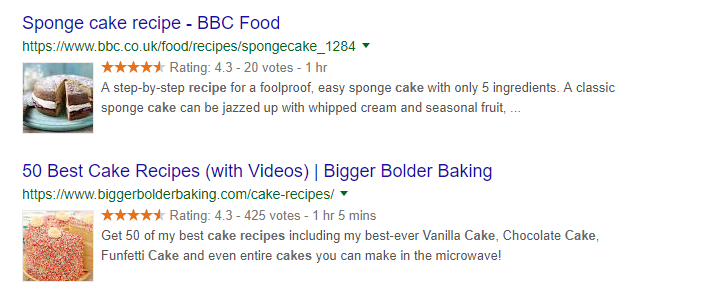 To gain more Google Reviews, there are a few things you can do to increase volume, without compromising on content. First and foremost, you can share a direct Google Review link to your business. To get this link you can use this helpful tool from Whitespark. This link can then be added to your website, social media channels and email signatures. 
You can also also encourage reviews by offering a reward, such as a discount for their next shop for those who leave a good review – though you must be careful not to offer anything of monetary value, as 'paying' for reviews is against Google Guidelines.
Answer Frequently Asked Questions
How many times a day do you turn to Google to ask a question? From asking about the local weather to a reminder of your IP address, Google has you covered.
WIRED have even created their own, very popular, YouTube series of most searched terms for celebrity guests. We're always looking for answers to life's questions.
So being able to answer a question, and gain some exposure as a result, isn't a bad thing at all. Google actively encourages businesses to answer commonly asked questions and has recently rolled out Google Question Hub.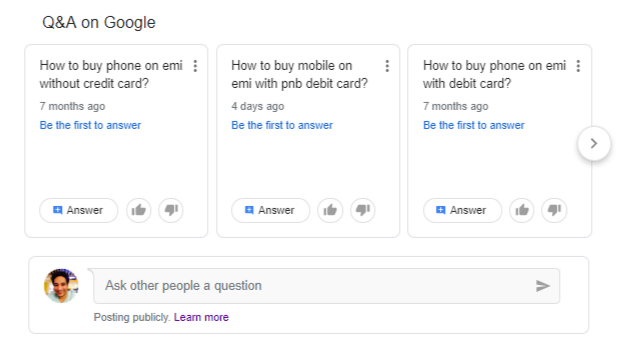 Image credit: Search Engine Roundtable
This is where Google will show you gaps in their knowledge for subjects related to you and your business. It's a win win – you get more exposure and Google becomes a better source of information for users. 
Unfortunately, however, it has only been released in India, Indonesia, and Nigeria so far. It is hoped that this will eventually be rolled out globally, but in the meantime you can answer questions using your Google My Business page and website.
To answer questions through your page, you need to first be asked questions: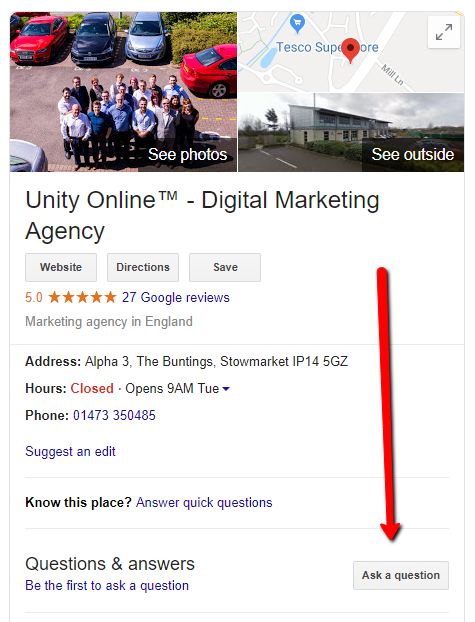 You can encourage users to submit their own questions, but you can also use your own personal Google accounts to ask questions. 
Use this space to answer any questions that are frequent. For example, if you are a florist you may be asked if you stock a particular kind of flower often. Alternatively, you might be asked if you deliver to certain areas. Answer local questions to help local people.
Add in Products & Services
Remember earlier, when we used Google to search for a business? Well, did you know that you can use that space to list products and services? This is how it looks via search: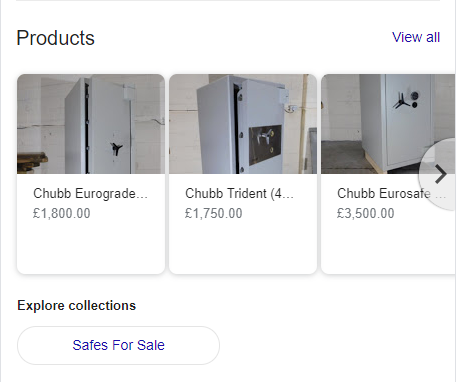 Although this shows a quick snippet, you can add in more information and details about your products and services (such as prices and links to product pages). You can also put them into 'Collections', to make it easier for users to find what they're looking for.
With 35% of all product searches starting with Google, it would be mad not to take advantage of this free advertising space. It gets even better when you click into a product…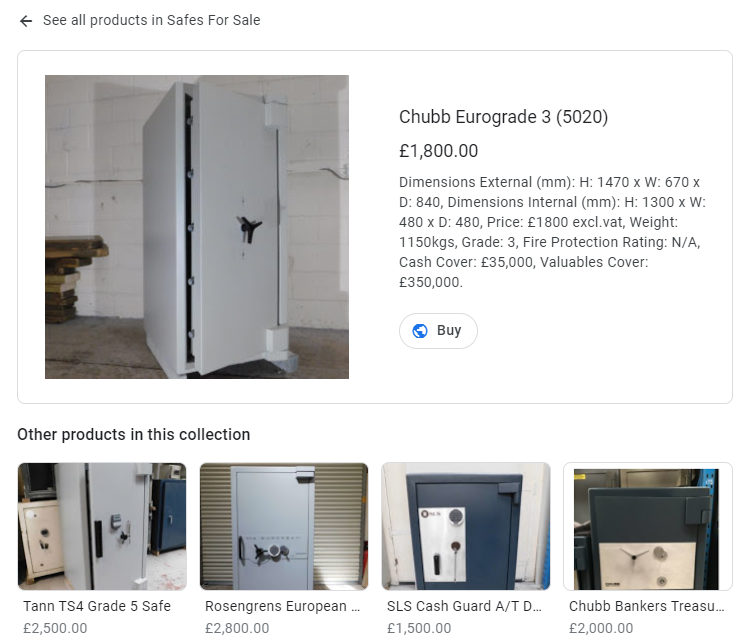 Once you visit a product, you can then see how much it is, information about the product and also leave a link to where the product can be purchased. Better still, they also list other products within the collection which may be of interest.
This is not to be confused with Google Merchant Centre, where you can configure products to appear in Google Shopping. These Google My Business listings will only appear in search, but is a quick and easy way to advertise products and services. 
Post Regular Updates
Lastly, once you've covered all of the above, you can use regular Google My Business updates to reach users. It works in a similar way to products/services, but offers a wider range of content for users (from general news to events and offers).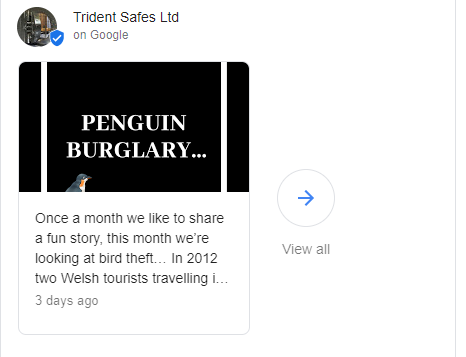 Updates will show underneath information about your business. If your page is verified, it will show a blue tick. This is a snippet from Trident Safes, talking about the theft of a penguin from Sea World. They don't always have to be serious!
Here are the content types on offer:

What's New – This is where you can share industry news, company updates, videos and interesting articles. It is a content oriented style of post.
Event – This highlights an 'event' that lasts over a period of time. This can be a physical event such as a trade show, or an online event like a giveaway. 
Offer – This is where you can list your ongoing, or limited offers. Here you can include coupon codes, links to redeem the offer and terms & conditions pages.
Product – This is where you can list all of the products you have to offer. You can add an image of the product, description, price (or price range) and a CTA (such as 'Buy' or 'Order Online').
The only caveat to all of this is that your posts will only appear in the search view for 7 days (with the exception of events/offers). They still exist, they just do not appear in your Google My Business profile. So, you'll need to make updates every 6-7 days – ultimately ensuring you have 1 post a week. 
Key Takeaways
– Make sure you set appropriate service areas.
– Encourage customers to leave reviews, perhaps offering rewards for doing so.
– Encourage customers/users to ask you questions.
– Showcase all of your products and services.
– Keep your profile up to date with regular posts.
If you would like to learn more about our local SEO services in Suffolk and Essex, then please do not hesitate to get in touch. You can call us on 01473 350485, email us at hello@unity.online or fill in our online form. You can also speak to us on social media, either on our Facebook or Twitter pages.