How do I get my business noticed online?
A great question that probably passes a lot of people's minds when they begin a new business venture or have an established company of many years that is keen to embrace the online world.
Unfortunately, there isn't a one-size-fits-all answer. Many businesses have different needs and requirements and cater to different target audiences. All companies have something that someone in this wide world needs and it's all about marketing your company in the right way to get in front of those very people. While that may seem like a very daunting idea given that there isn't an easy fix to getting noticed online, there is one trick that can immediately help your business and it's something easily accessible by just about anyone with a computer. A Google My Business Listing.

This article will explore the reasons why Google My Business Listings are a good investment of your time to start getting your business noticed in local searches made by your target audience.
What is it?
A Google My Business Listing (GMB) is a free listing for your business that specifies:
Who you are
What you do
Where you are
How you can be contacted
With around two thirds of the world's population now owning and using a mobile phone today Google have created something that allows users on the go to find you!
How does it work?
If you are a well-established brand or company, users can simply type your name into Google and on the right-hand side of your computer screen, a box will show any and all of the above details, as well as a number of other features. Users can also find your business by searching for a service or product that you provide and with the right optimisation the listing may be displayed within Google Maps.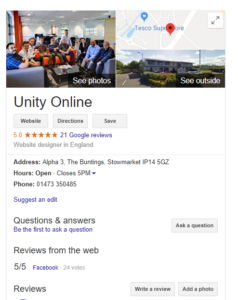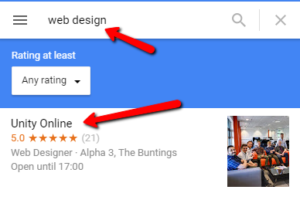 Why is it important to me?
Having a Google My Business listing need not cost any more than a moment of your time to set up. Better still, it gives your target audience an easier way of finding your service(s) and product(s) because you are their closest outlet for that service or product. All your business requires is a Gmail account before creating your listing via the Google My Business page.
By setting up this listing you have a multitude of options available to start building relationships with your target audience.
It is increasingly beneficial for online users to get a feel for how your company is viewed by others in their shoes. Your GMB Listing provides a platform for users to review your brand and share their opinions of your service.
If your customers love you – and you can see they love you in your GMB Listing – then why not share that with the world? Encourage reviews and when people see honest comments about your business, they will be more inclined to contact your business to experience what you already offer to so many.
Should a couple of negative reviews find their way onto your listing, these moments are the real test of your ability to handle negative feedback. Today's internet users can be skeptical so a business with all five-star reviews – believe it or not – can be off-putting. These negative reviews can bring an honesty to your brand that you never thought could be helpful. If you respond to these negative comments in a polite manner and try and overcome their grievances, it can go a long way to building trust and integrity with prospective customers.
What other things can I do with GMB?
Google has been updating the user experience for GMB to provide local businesses with more easily accessible information about how their target audience uses their listing and has been providing new ways to improve engagement such as:
Insights: With the Insights section on your GMB home screen, you can view data about how users are interacting with your listing.
Queries: Find what terms users are seeing your listing on. This can help you narrow down your keyword targeting for the local visibility of your website.
Search Data: See how many times your listing was viewed by users looking up your brand name versus how many users find your listing via a service or product you provide. This is based on the categories you set up on your listing, Google can then attribute similar key terms that show the correct intent for each user.
Listing Interactions: You can see exactly how many users over a certain period of time (A Week, A Month, A Quarter) do the following:
Call you directly from the listing
Ask for directions to your location
Visit your website to further their user journey through what you have to offer
Directions: If you have enough traffic finding your listing, you can even view the areas your direction requests are coming from, right down to a postcode, providing you have the right amount of data. This can help you drive more conversions by giving offers to certain postcodes or targeting paid ads through to a specific area.
Posts:You can even keep your target audience up-to-date with news about your business, special offers and products with GMB. The posts last for seven days then disappear, but they will collect engagement data along the way. This allows you to test the water and see what clicks with your target customers.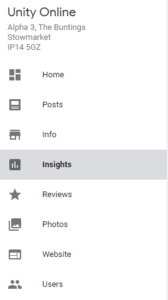 Something that is a little less accessible is messaging. This feature enables users to send a text message to your business instead of simply calling. This feature isn't live on certain GMB Listings, so I have yet to test its usability and effectiveness in conversions, but it's definitely a "watch this space" feature.
Why is Google My Business Important?
With the combination of all the above features, a good strategy and an eagerness to give your target audience exactly what they are looking for, you could dominate local search by incorporating this platform into your digital marketing arsenal.
Looking for more advice on Google My Business optimisation, strategy and other digital marketing techniques? Get in touch with Unity Online to arrange a free initial consultation with our digital experts to discover how we could enhance your company's visibility for local and hyper-local searches in Google.