So you have a website, nicely designed and filled with information about your business. The next step is ensuring people find your brand online. If you're struggling to be found by existing and potential customers, and online sales or enquiries just aren't happening, SEO (or search engine optimisation), could provide the solution.
The purpose of your website is not just to showcase your products or services, but to increase revenue for your business. The right people need to find your website for you to achieve the conversions you are looking for. Conversions can be a telephone enquiry, contact form submission or an online sale. By targeting the right audience and improving your website's visibility, SEO can help more people discover your business, increase conversions and, in turn, boost your revenue.
How SEO helps customers find your business online
SEO focuses on traffic from the organic search engine results pages (or SERPs), which are the results that you don't have to pay for. Instead, you can improve where your website ranks in the SERPs by optimising your website and ensuring it meets the quality standards set out by Google.
The process of SEO increases both the quality and quantity of traffic to your website. Quality traffic are visits from people who are interested in the products and services your brand offers, and the more of these people find your website in the SERPs, the more traffic you will receive.
SEO can help your business target exactly the right kind of customer, so when people are searching for a product or service that you offer, they will land on your website.
For example, imagine you are an electrical safety inspector offering electrical inspections. It won't be useful if your website appears in search results for those looking for electrical safety inspector courses and qualifications. SEO can help you refine your target audience and appear only in searches that are relevant to your business.
The elements of SEO
There are many parts of your website, both visible and behind the scenes, which can be optimised to improve its performance in the search engine result pages. Optimisation can include making updates to your website, as well as monitoring its performance and making adjustments based on data.
Optimisation can generally be split into three categories: technical SEO, on-page SEO and off-page SEO.
Technical SEO
Technical SEO ensures that your website can be crawled and indexed by the search engines, which in turn allows it to rank in the SERPs. Technical SEO considerations include;
Site speed – How quickly does your website load?
Site structure – Does your website have a logical structure which allows search engine bots to crawl your site effectively?
Mobile friendly – Is your website functional and easy to use on a mobile device?
Unique content – Is all of the content on your website unique, with no duplication from other online sources?
On-Page SEO
On-page SEO consists of optimising the content of individual web pages to help them rank higher in the search results. On-page SEO considers factors like;
Content – Is your content well-written, relevant and unique?
Alt tags – Do all images have alt tags which describe their appearance and function? This is important for visually impaired people using screen readers and also helps search engine crawlers index images correctly.
Title tags – Does the page have a title tag which provides an accurate and concise description of its content? This title tag appears in the search engine results and at the top of your web browser..
Header tags – Is your content structured with headings which make it easier to read for users and which provide context for search engines?
Meta description tags – Does each page have a unique meta description which provides a brief summary of its content? This text appears beneath the page URL and page title in the search engine results and well-written meta descriptions can improve click-through rates.
Target keywords – Does your page content contain relevant keywords which people commonly use to find services and products like yours? Are these included naturally, avoiding keyword stuffing?
Internal links – Does the page contain relevant internal links to help users navigate around your website or reach the next stage of the sales funnel?
Off-Page SEO
Off-page SEO focuses on generating traffic to your website. Elements that can be optimised off-page to improve your website's performance in the search results include;
Website speed – How quickly does your website load when a user clicks on your page in the SERPs?
Link building – Are other relevant, high quality websites linking to your own site (external links)? Both external and internal links (links to other pages on your website) can influence your website rankings.
Mobile optimisation – How easy is your website to navigate using a mobile device? Consider user experience for those on mobiles and tablets.
Social optimisation – Is your website content being shared and mentioned on social media platforms? If so, what is the quality and quantity of this social engagement?
User interaction – How do users interact with your website, including time on site and user journey. The more people that use your website, the more valuable your website appears to the search engines.
Consider the purpose of your website
Before optimising your website, it's important to consider what you want to achieve by having an online presence for your business.
A brochure to advertise your services. If your business is service-based, your website acts as an informational hub for your brand. In this case, SEO can be used to improve brand awareness.
A tool for lead generation. You may want your website to generate new, high quality leads for your service-based business.
An online shop. If you have an e-commerce website, your main aim will be to increase revenue through online sales.
Having a good idea of what you want to achieve will inform the strategy you use to optimise your website.
The difference between organic and paid
SEO focuses on optimising your website so it appears in the organic search results based on the keywords or queries that users enter into the search bar. Paid advertising, or pay per click (PPC) results also appear in the SERPs, clearly marked as ads.
To maximise online visibility and brand awareness, many businesses choose to invest in both organic and paid marketing, making it even easier for customers to find your website when searching online. Paid advertising can also be utilised when your website is in the process of being optimised. This can increase quality traffic to your site before it begins ranking organically.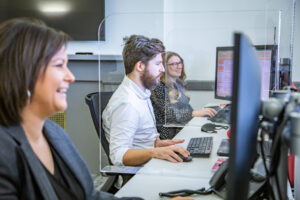 Why work with an SEO specialist
Despite what some in the SEO industry might suggest, SEO is neither rocket science nor one of the dark arts. Anyone can optimise a website and achieve an improvement in search engine rankings. SEO is ever-changing though, with new quality standards introduced regularly and new technology to consider. Combined with understanding how customers and search engines view your website, SEO can soon become a full-time job.
That's why many businesses choose to work with an SEO specialist to increase brand awareness, online visibility, traffic and revenue. We have a whole SEO department dedicated to achieving our clients' business goals. Our team has over 40 years of experience between them, and a diverse range of skills and qualifications which allow them to fully support your business.
If you'd like to have an informal chat about our search marketing services, we'd be happy to arrange a call to discuss your business and what you're looking to achieve. Get in touch and let our experts answer any questions you have and explore which of our services might benefit your business.