One of Suffolk's fastest-growing full-service digital agencies is celebrating its fifth birthday this month. Unity Online was established in early August 2014 by founder, Alex Pattenden, with a desire to create a digital agency that catered exclusively for the needs of smaller businesses looking to sell and increase their exposure online.
Having gained several years of experience working for a Midlands-based digital agency, Alex decided to launch Unity Online in the heart of Mid Suffolk. The agency's humble beginnings in Norfolk House on Needham Market's Lion Barn Industrial Estate afforded Alex 600 sq ft of office space which was decorated and redesigned internally by Alex himself.
With the aim to provide in-house SEO services at the launch of the agency, Alex managed to convince Rob James – now the agency's Head of Marketing Services – to take the plunge and head up the agency's search marketing department. Alex's brother, Ashley, soon joined the company as a much-needed sales executive to drum up interest among prospective clients.
The agency launched with just one in-house service and five retained clients on its books. As the agency continued to grow in stature and expertise, there was a need to bring bespoke web development in-house. This would ensure that both SEO and development could sing from the same hymn sheet. Chris Seaman became the first full-time web developer at Unity Online, who has since played a key role in the successful design and launch of well over 100 new websites for clients throughout the eastern region.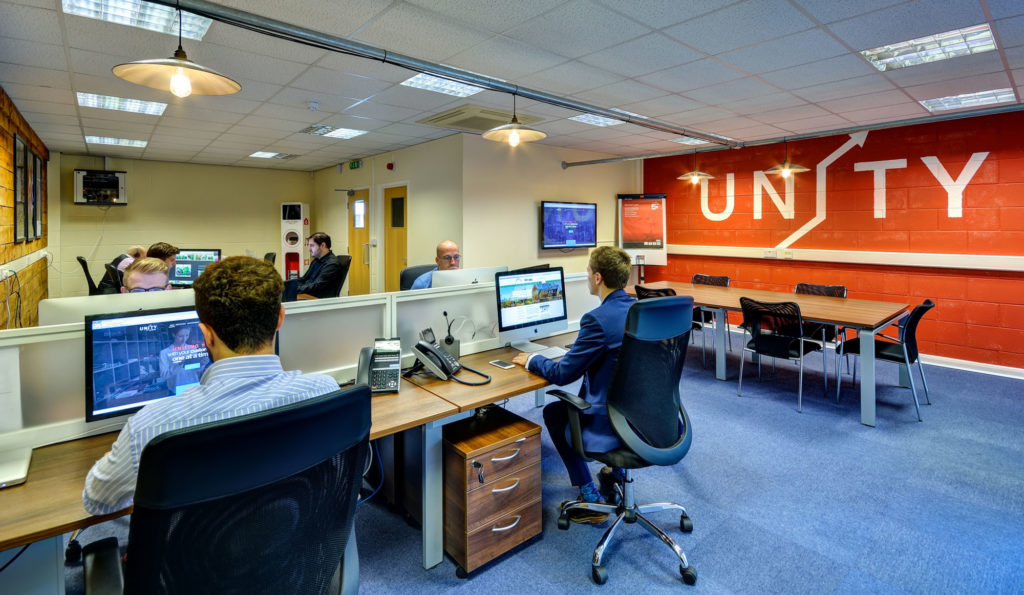 Wind the clock forward to the present day and the agency now offers up to eight digital services in-house, cementing its position as the fastest-growing full-service digital agency in Mid Suffolk. Thanks to the agency's growing expertise, Unity Online now boasts a client roster of more than 180 small and medium-sized enterprises in East Anglia and beyond.
The agency has also bedded into its latest surroundings. Having left Norfolk House to move to The Buntings in Stowmarket, Unity has benefited greatly from its purpose-built office and meeting space and a strong logistical base from which to host and reach out to clients.
Plans afoot for bold office move
Alex and the team are not finished yet either. With the team of full-time staff having now exceeded 25, plans are afoot to make another bold office move to create even more growth opportunities. Unity Online have this week picked up keys to an exciting office space within Needham Market train station, regenerating an historic building and giving themselves the space to expand departments and foster the customer experience-led culture that the agency is trying to create.
Could you be the next client success story at Unity Online? If you're keen to take a different digital path for your business, arrange a free initial consultation with Unity's digital specialists today by calling 01473 350 485 or get the ball rolling using our online enquiry form.