Mobile phones have become like an extra organ for many. Did you know that 40% of UK adults look at their phone within just 5 minutes of waking up? That percentage then increases to 65% if you're under 35.
Not only have we as consumers bought into the mobile revolution, so have businesses. Facebook gets 87% of its revenue from mobile users and 78% of mobile searches for local businesses now result in a purchase.
We're fascinated by the use of mobile phones in marketing. That's why we've created an infographic that looks deeper into us as consumers and how businesses benefit from them.
How attached to your phone are you? Do you think they're extremely beneficial or ultimately detrimental? We'd love to hear your thoughts, so please tweet us with your comments at @UnityOnlinetm.
Find out more below…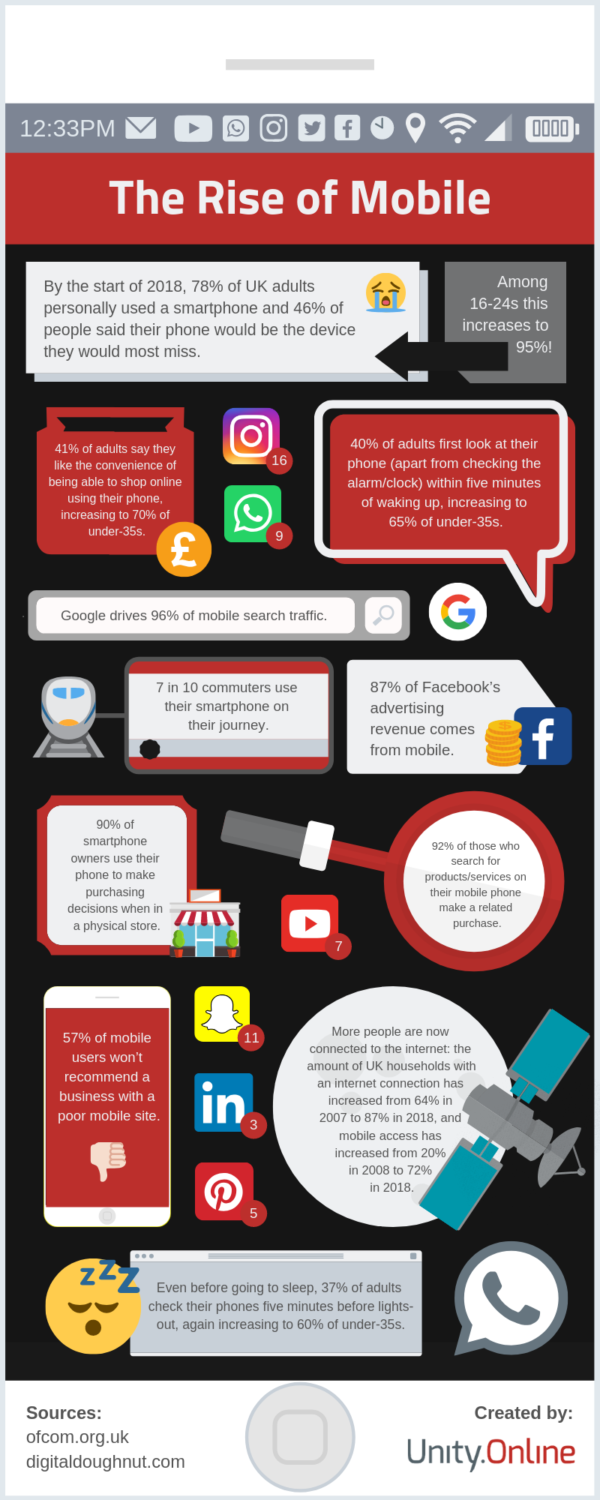 Infographic text:
"By the start of 2018, 78% of UK adults personally used a smartphone and 46% of people said their phone would be the device they would most miss. Among 16-24s this increases to 95%!" – Ofcom
"41% of adults say they like the convenience of being able to shop online using their phone, increasing to 70% of under-35s." – Ofcom
"40% of adults first look at their phone (apart from checking the alarm/clock) within five minutes of waking up, increasing to 65% of under-35s." – Ofcom
"Google drives 96% of mobile search traffic." – Digital Doughnut
"7 in 10 commuters use their smartphone on their journey." – Ofcom
"87% of Facebook's advertising revenue comes from mobile." – Digital Doughnut
"90% of smartphone owners use their phone to make purchasing decisions when in a physical store." – Digital Doughnut
"92% of those who search for products/services on their mobile phone make a related purchase." – Digital Doughnut
"57% of mobile users won't recommend a business with a poor mobile site." – Digital Doughnut
"More people are now connected to the internet: the amount of UK households with an internet connection has increased from 64% in 2007 to 87% in 2018, and mobile access has increased from 20% in 2008 to 72% in 2018." – Ofcom
"Even before going to sleep, 37% of adults check their phones five minutes before lights-out, again increasing to 60% of under-35s."  – Ofcom
The team here at Unity Online are masters when it comes to mobile optimisation. From responsive website design to social media marketing. If your business is looking to keep up with the smartphone revolution then please do not hesitate to get in touch. You can call us on 01473 350485, fill in our contact form or email us directly at hello@unity.online.
Feature image by rawpixel.com from Pexels.