"We should post every day, at least once, at 9pm, because our Facebook page insights said so."
"We must market ourselves on Twitter, because it has 326 million active users that we could potentially reach."
Does this sound familiar?
We have all heard that we should be on social media – but with 44% of CMOs struggling to quantify the impact of social media on their business, it's only fair to ask: how is social media really impacting your ROI?
But first things first, are you doing it right?
Don't Be A Social Zombie
If you are distributing content every day or weekly, with no intention or purpose behind sharing those pieces of content, then you are probably not getting it right. Aimlessly investing resources and creativity into a social media post, hashtag or campaign without a goal is a waste of your social media marketing time. There are many potential areas of quantifiable returns on social media, but mindlessly posting isn't one of them.
If you want to see tangible returns for your growing business, it's important to define your goals and key performance indicators to begin with.
Are you using social media to reach new customers on Facebook? Which will then be measured by page reach and following.
Or do you want them to see you on social and then purchase instantly?
Do you want people to contact you based on your posts? If yes, then how? Will we be measuring direct contact on Facebook's call-to-action button, measuring the number of tweets to your brand or quantifying contact form submission originating from social traffic when they land on the website?
Additionally, are digital downloads of offers a goal you wish to achieve on Facebook?
Or is it something simple like driving social media traffic from relevant audiences landing on your website from paid ads?
Whatever your goals, with simple integrations like Google Analytics and Urchin Tracking Modules (UTMs), social media ROI is no longer a mystery, and nor should it be.
Everything below and a lot more can be tracked and measured easily to showcase social media return on investment today.

Where companies – and some digital marketers – fail is when they do not define clear business goals for social media marketing. Nor do they put in place the correct measurement tools to track the success of the metrics that truly impact the bottom line.
If we do this from the word go social media can be used as a very feasible tool to move a customer along the sales funnel and foster desired business outcomes.
Use Social Media To Positively Impact Your Sales Funnel
Primarily, social media is stellar at creating awareness for your brand. This can be gathered organically when you share a post about a new product or service to reach people who subscribe to your page. Alternatively, it could be used when you run a paid ad to increase your followers and introduce them to your brand.
Whilst achieving ROI from social media gets harder as you move down the sales funnel, it's still one of the best and most feasible ways to start the sales process. The awareness generated by social media for your business is often measured by the number of people you reach and the number of followers you have that lead to a potential sale.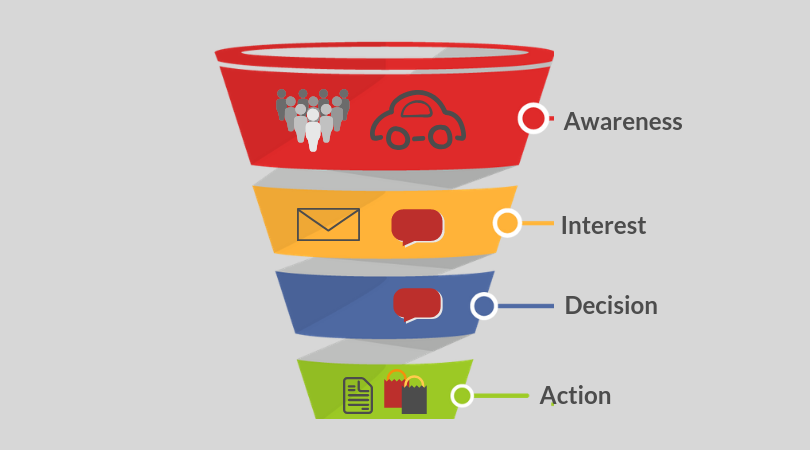 Similar to awareness, social media marketing is also effective for generating interest in your offering. Posts and ads that are likely to engage a customer and encourage them to click through can lead to lots of measurable traffic tracked by Google Analytics, i.e. interest for your brand. Social comments and 'likes' also express interest in your offering.
Where social media's contribution to the sales journey gets even easier to track but harder to accomplish is on the decision and action phases. When you advertise or post to a target audience or your followers on Facebook, you are disrupting their community browsing experience to promote something. Unless you offer a spectacular deal or a hyper-relevant product, the number of actions and purchases via social media marketing will be limited.
However, whilst the goal conversion rate may fall during the decision and action phase of social media marketing, this does not mean it can't be tracked or enhanced by you or your marketing agency:
Here's an example of a client we have set up multiple goals for. We want the customer to participate in the decision of contacting the client for the price of their goods or services.

By using UTMs and Google Analytics, we can easily measure where traffic and goal completions are coming from and what the ROI is from social media based on our spends.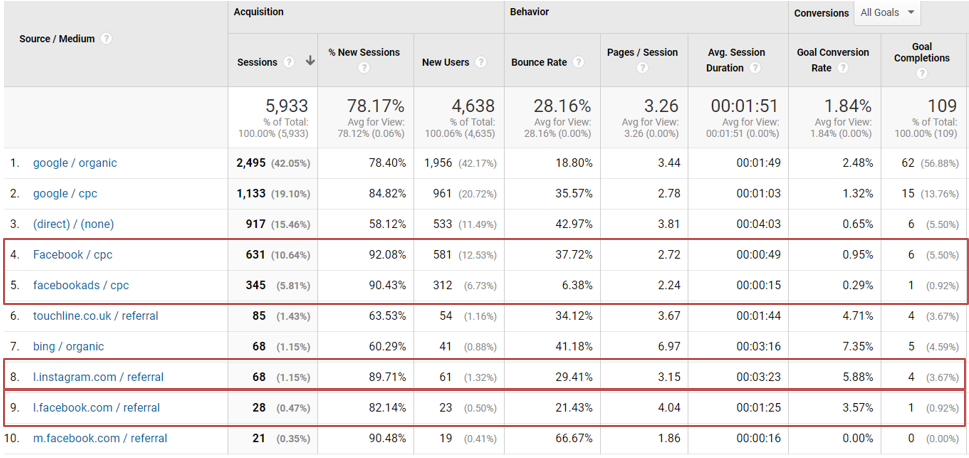 Here's another example, taken from Facebook's own reporting platform, to showcase the ROI from social media for a client who wanted the action of purchases taken from their Facebook ads. As you can see below, they spent just £65.22 to generate 15 purchases equating to £422.02. That is an advertising cost of £3.26 per purchase, with an average value of £28.13.

How Unity Can Help
As highlighted above, ROI from social media is possible to measure with the right goals and metrics from Google Analytics and social media platforms. If we think of social media as a tool that can assist the sales funnel with controlled investment, it can have many benefits to your overall marketing strategy and business goals.
To demonstrate these benefits, at Unity Online we ensure all our clients have an initial briefing meeting where SMART social media marketing goals are established, followed by monthly marketing reports to track goal conversions and social media data.
Each client, based on their business, will have unique key performance indicators, and we can help you identify and achieve them.
Get in touch with Unity Online to arrange a free initial social media consultation with our digital experts. A quick free chat can help growing businesses likes yours to discover how your social media marketing can be more results focused.