UK Gaming Computers
UK Gaming Computers is one of the UK's most established companies specialising in the build of gaming and custom desktop PCs to the highest possible standards. The Essex-based firm assembles, researches and tests the leading gaming PCs, giving them expert insight into the best hardware and accessories for the custom gaming computer market. The business not only builds PCs, they are avid PC gamers themselves, and their passion for gaming flows through everything they do.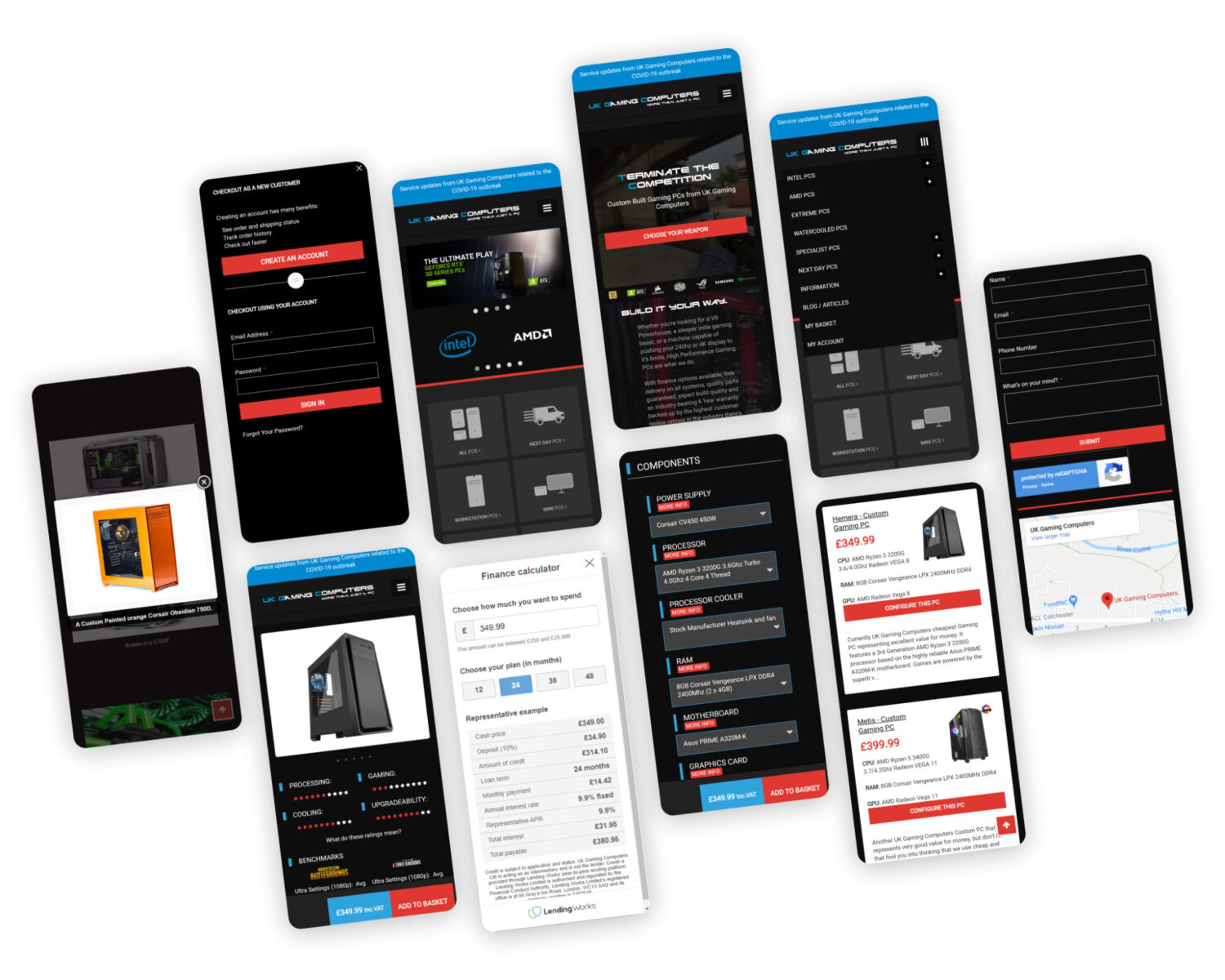 Our role in enhancing the organic performance of the UK Gaming Computers website
For some time, the client had been seeking a digital partner to work collaboratively to improve the organic performance of their website, whilst increasing the brand's reach and overall enquiry levels – particularly for custom built PCs which are highly profitable for the business. Our primary objectives were to improve visibility for 'gaming PC' and all related long-tail keywords, whilst growing online sales for all custom-built gaming PCs.
Our three-pronged approach to marketing UK Gaming Computers across SEO, PPC and paid social has paid dividends for the client in recent months. March – August 2020 was the company's best ever six-month period for revenue since tracking began.
360
Keywords appearing on Page 1 in Google – including 20 position 1 organic listings
242%
YoY increase in organic traffic to the website
3,830%
Best monthly ROI in June 2020 (inc. ad spend and management fees)
Utilising PPC to protect the client's brand terms
Our PPC consultants were engaged to undertake a 'protect and conquer' approach to the client's brand terms. The phrase 'UK gaming computers' is often used by gamers with no knowledge of the UKGC brand. Consequently, our PPC campaigns were designed to position the client prominently in Google AdWords and Bing Ads, whilst targeting broader PC gaming search terms too.
Growing organic traffic to the site using SEO techniques
Our primary objective for SEO was to increase traffic to the site by improving the client's rankings for many highly valued keywords. Through on-page optimisation, content creation and continual site analysis and improvements, we have been able to improve organic traffic year-on-year by 242% between August 2019 and August 2020.
Retargeting and prospecting via paid social channels
The other core objective was to reach out to prospects within the client's target demographic on social media, as well as those who have already touched upon the brand. Our team has captured demand from those who have visited the site organically or via PPC but failed to convert. Our retargeting ads in Facebook and Instagram feeds are engaging and product focused. To reach out to prospects on social, the team has segmented a custom audience of console gamers who could be interested in PC gaming, utilising our ads to demonstrate the added features and benefits of gaming on a PC.
More Client Experiences
From day one, our expert team of designers and developers
Results-driven digital marketing agency
We are a results-driven agency focused on Driving you revenue