Trident Safes
Trident Safes are specialists in heavy safe and vault logistics. Since its establishment in 2014, Trident Safes has quickly developed a proud reputation for its flexibility and capability to deliver bespoke safe and vault solutions to businesses across a host of industries, including jewellery, finance and retail sectors, as well as homeowners seeking to protect their prized possessions. From the supply and installation of Eurograde safes through to the sale of reconditioned safes, Trident Safes handles it all.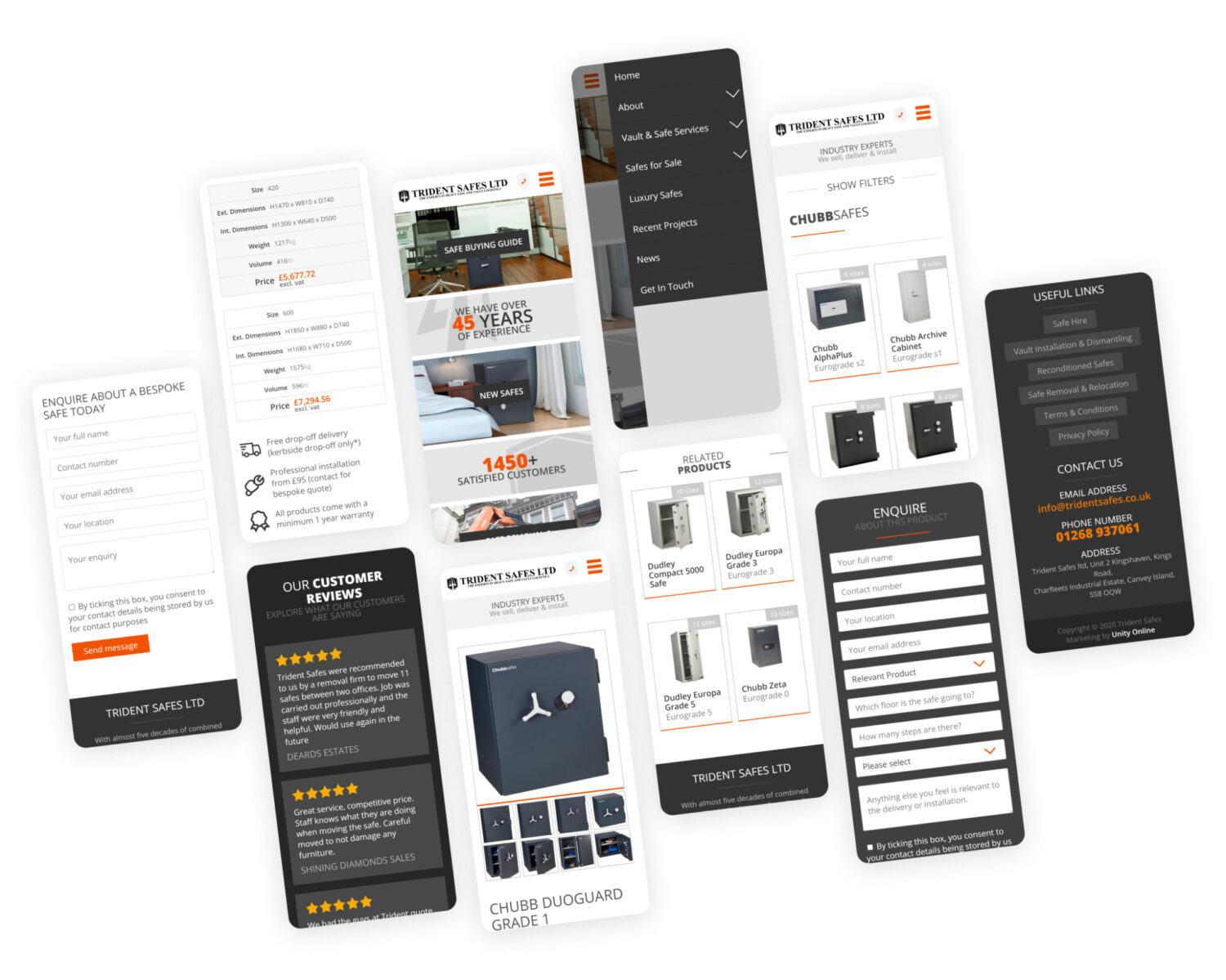 Our role in Trident Safes' transition to an ecommerce business
Aside from improving the quality of traffic and lead generation from the Trident Safes website, our team has also been working side-by-side with the client to transition the company into an ecommerce business. Our multi-channel strategy for lead generation revolves around organic search marketing, targeted PPC and LinkedIn marketing to cement the brand as a market leader and innovator.
We continue to create thought-provoking blog posts to capture long-tail search traffic, as well as location-specific landing pages to extend the brand's reach across the UK. We have been underpinning this with a LinkedIn strategy that forges strong B2B connections. Our location-specific PPC campaigns have also targeted businesses and individuals seeking safe and vault installations, removals and disposals across Essex and London – their primary target markets.
843%
YoY increase in online enquiries with a reduced cost per click
25%
YoY reduction in on-site bounce rate
100%
YoY rise in the number of pages viewed per site visit
"Unity Online adhered to all deadlines and timescales during campaign setup, and now as a result of the extensive research, and knowledge from the Unity Online team, we are now generating over 25 leads a week. We have found the team to be very helpful, transparent and focused, helping shape our future as a business."

Michael
Director
Eight-fold rise in enquiries for a cheaper cost per click
In August 2019, the Trident Safes website was generating seven monthly enquiries at a cost per click of £2.54 per enquiry. 12 months later, we have managed to grow that number by more than eight times that amount to 59 monthly enquiries. What's more, we've also been able to reduce the cost per click to just £2.14 per enquiry.
Sleek, technically proficient website meets users' needs
Our primary task for the client was to design and build a bespoke website that offered an intuitive user experience, demonstrating their product range, services and USPs in the clearest way possible. By almost doubling the number of landing pages a user views during a single visit from 1.5 to three, it's clear that the website is educating and inspiring users to read more – and hopefully convert!
Transforming the quality of on-site traffic
In August 2019, the average bounce rate of the Trident Safes website was 81.90%. This means that less than one-in-five users bounced off the client's website from the first page they arrived on. During the last 12 months, we have managed to improve the quality and relevancy of the client's web traffic. This has helped to bring the overall bounce rate down to just 56.33%. It is an indication that more users are finding what they need from the Trident Safes site.
More Client Experiences
From day one, our expert team of designers and developers
Results-driven digital marketing agency
We are a results-driven agency focused on Driving you revenue