Sentek
Established in 1991, Sentek specialises in manufacturing electrochemical sensors, including OEM products with custom branding. Since 1998, the business has tripled in size, and now has customers in 90 countries. The company sells direct to consumers online and now has a smart new website that stands out from the competition.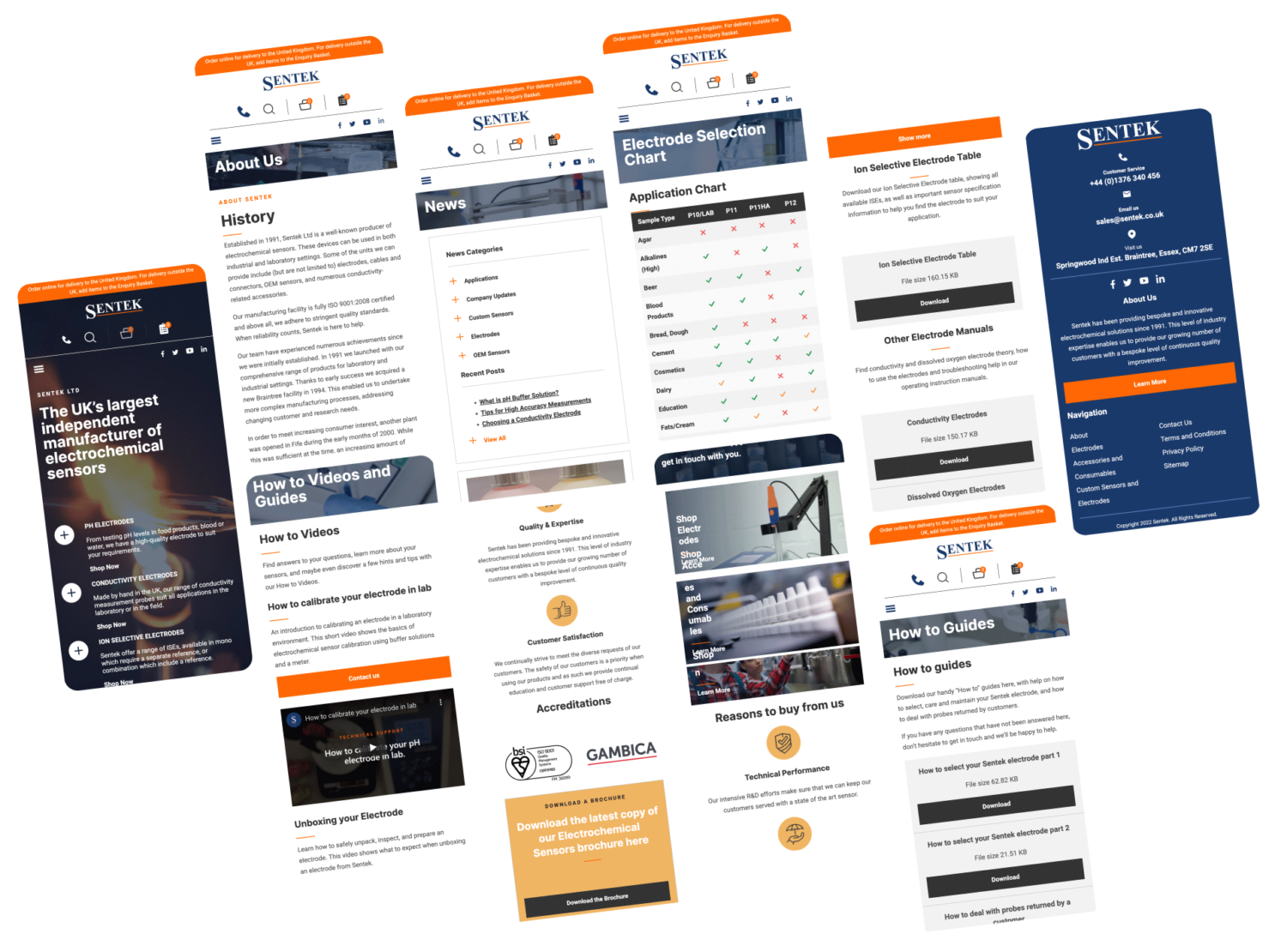 Our role in developing the new Sentek store
Sentek approached us to build a new and improved ecommerce website that showcases their full range and better matches their brand. Their business model of manufacturing OEM products alongside contract manufacturing and selling direct to the consumer made the brief a little more complex. As a result, we needed to design a shop that featured both products that can be ordered online, and those which are available on enquiry.
The new store also needed to be built with SEO in mind, as Sentek would be investing in digital marketing to further grow their brand. Our expertise in both web development and SEO meant that we were well placed to deliver exactly what they needed.
Introducing an intuitive layout
Sentek's new website needed a more user-friendly layout that was easier to navigate. To achieve this, we created a clean navigation structure that matches the way customers shop. We also improved the filtering options to allow users to quickly find what they need from the increased range of products. To improve SEO, we added detailed descriptions to key category and product pages.
Adding an enquiry basket function
It is necessary for customers to enquire about products that are not instantly available to buy, so we added an enquiry basket function that allows consumers to request information or specify requirements before ordering. This means that the full Sentek range can be showcased online, including custom products.
Highlighting Sentek support
Sentek take pride in offering high quality customer support, so we made this prominent in the navigation. Here, customers can find technical resources and advice in the Download Centre, plus How To videos and guides alongside an improved news feed. This wide-ranging content helps to build trust in the Sentek brand by demonstrating their expertise, while ensuring customers feel fully supported at every stage.
More Client Experiences
From day one, our expert team of designers and developers
Results-driven digital marketing agency
We are a results-driven agency focused on Driving you revenue