SBC Skincare
A British brand based in Suffolk, SBC Skincare started out supplying their signature moisturising gel formula to the professional beauty sector. As their products became more popular, they began selling direct to customers wanting to enjoy better skincare at home. Their range now includes expert formulations for face, body, and hair, all of which can be purchased online through a fresh new website.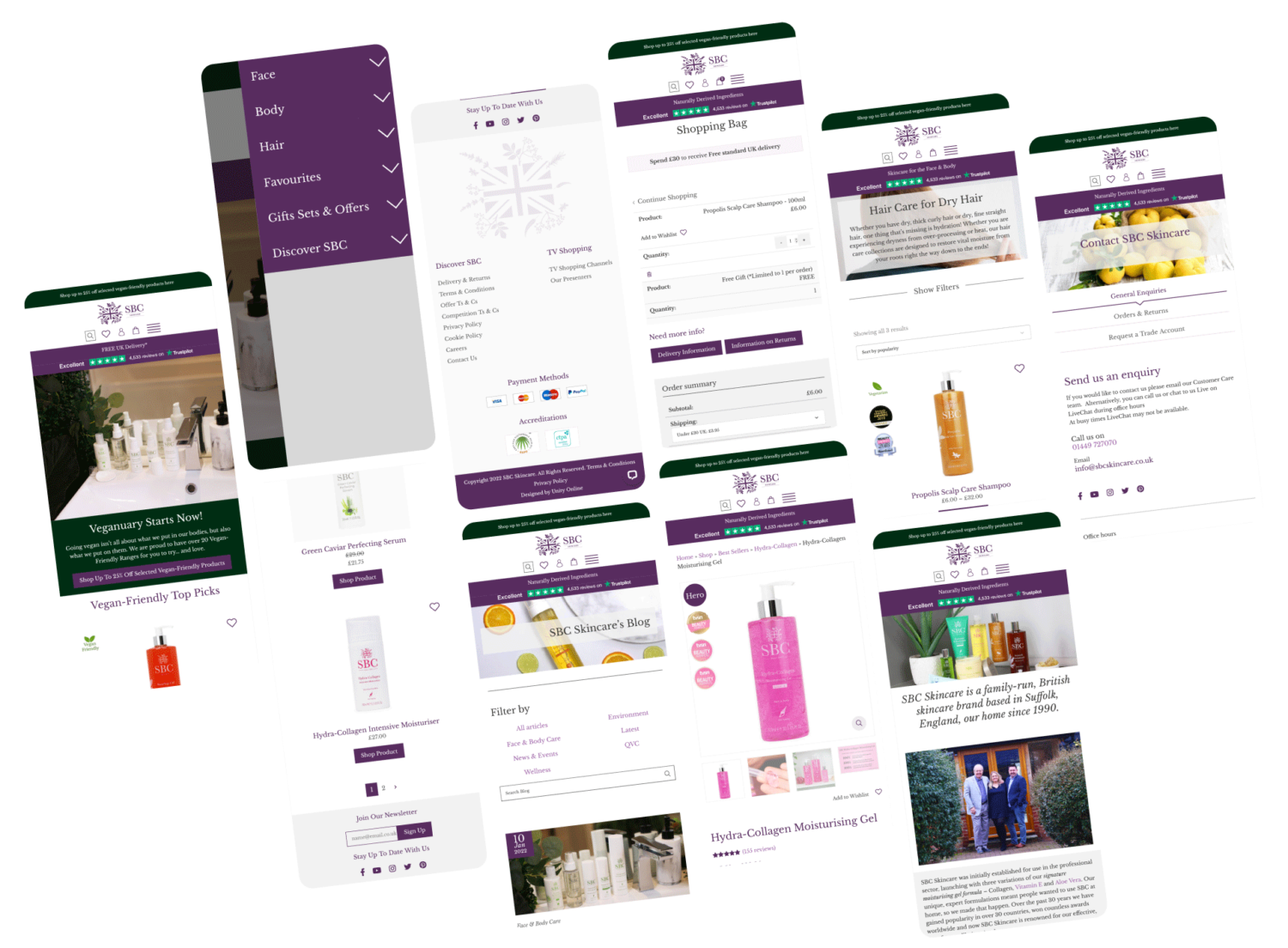 Our role in formulating a new recipe for the SBC Skincare brand
When we first started working with SBC Skincare, they had two existing websites which were slow and uninspiring. The aim was to create one destination for their much-loved products, where customers can easily pick up their favourite formulations or treat themselves to something special. This would be supported by a dedicated section for blog posts and videos to help people get the best out of their skincare buys.
To make it easier for customers to shop, we designed a detailed navigation organised by skin type, concern, and product benefits, with the goal of increasing sales by simplifying the purchase process. This approach ensures that this large ecommerce website is easy and enjoyable to use, whether a customer knows exactly what they are after, or wants to casually browse.
Highlighting what matters on the homepage
We designed a homepage that blends the key USPs of the brand with space to showcase popular or seasonal products. SBC Skincare use naturally-derived ingredients to create cruelty-free skincare, sold in 100% recycled plastic bottles. It was important to emphasise this eco-friendly ethos on the new website, while also encouraging customers to click through to individual product pages.
Mapping the way to more sales
Understanding how people shop for skincare informed the structure of the new website and makes SBC Skincare's huge range easy to explore. Organised by face, body, and hair, items are also categorised by skin type and concern, product benefits, and product type, allowing customers to follow a personalised route to the right formulation for them. Having this shape in place also allows the brand to expand its range in future with new additions.
Sharing skincare secrets
The SBC Skincare range is all about wellbeing, so creating a hub for inspirational articles and video content will help customers maximise the positive benefits of their products. We also included a directory of ingredients, detailing the natural benefits of each botanical. This supports the brand's position of being ingredient-led and appeals to discerning customers who want to know what's inside a bottle of SBC Skincare.
More Client Experiences
From day one, our expert team of designers and developers
Results-driven digital marketing agency
We are a results-driven agency focused on Driving you revenue