Qualitape
Qualitape is a brand established in 1999 to serve the UK's technical tape and packaging markets. Its world-class bonding products are now suitable for a host of industries, with the company forging a proud reputation built upon customer service, reliability and product innovation. Through the years, Qualitape has worked collaboratively with adhesive manufacturers, coaters and converters alike to bring to market an advanced range of specialist tapes and adhesives to rival all other competitor brands.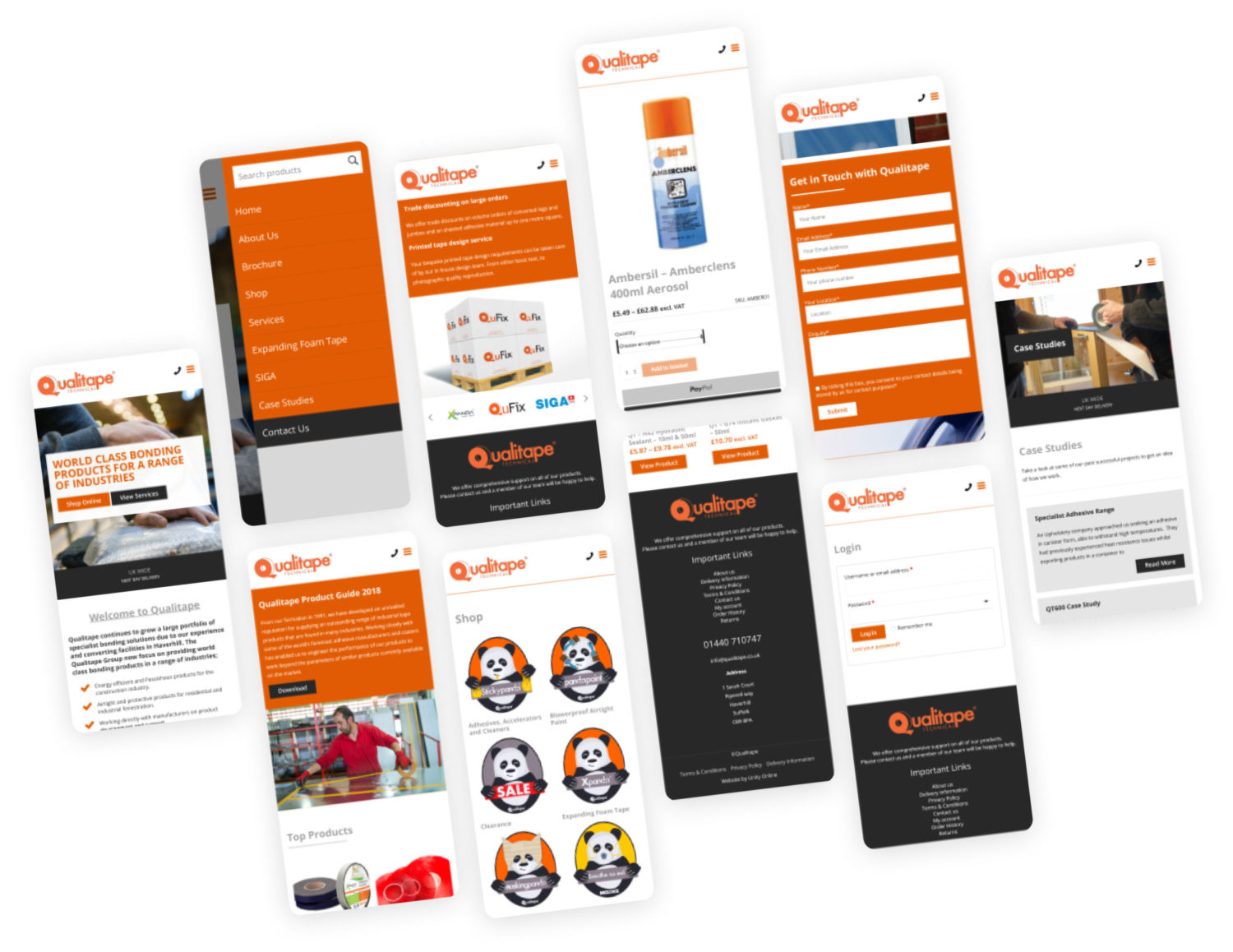 Our role in simplifying the user experience of the Qualitape website
It was quickly ascertained during initial consultations that the legacy Qualitape website had become cumbersome to maintain, whilst delivering a poor user experience for visitors. The client requested that the new site design needed to be scaled down, with optimal product categories for simple and uncomplicated navigation.
With the client also requiring a site that could be easily updated in the back end, we recommended our cost-effective premium WordPress templates. This package ensured Qualitape could benefit from a new conversion-focused ecommerce website. Our WordPress themes are compatible with an abundance of ecommerce solutions, most notably WooCommerce, which has given Qualitape a scalable platform from which to grow online.
Well-organised online store with engaging product pages
The client requested a website redesign that optimised the site's category and product pages to make it easier to navigate on all devices. The new online shop features user-friendly mega menus to help consumers find exactly what they are looking for, accelerating user journeys and helping to drive down bounce rates.
Customer accounts for easy order management
As part of the client's new ecommerce solution, customers can create accounts to improve transparency. Orders can be managed, reordered or cancelled at the touch of a button. The customer account functionality also makes it easy to see when orders have been despatched for delivery.
Certifications and customer reviews help to build brand integrity
The client's industry leading bonding products are some of the most respected in the industry. To better portray the expertise and quality of Qualitape products, it was agreed to strategically position certifications, company partners and customer testimonials throughout the site. As a BBE certified product, the BBE logo is proudly positioned in the website header. All of which helps to demonstrate the brand's reputability to first-time customers.
More Client Experiences
From day one, our expert team of designers and developers
Results-driven digital marketing agency
We are a results-driven agency focused on Driving you revenue