MJG Timber
MJG Timber has been a leading wholesale supplier of trade quality timber for more than 40 years. Located in Colchester, Essex, MJG Timber sources timber from reputable sawmills and distributes downstream to wholesalers and suppliers across England, Wales and Scotland. The company has developed a proud reputation for its customer-centric approach and is a member of the Timber Trade Federation and certified by the Forestry Stewardship Council and the Programme for the Endorsement of Forest Certification.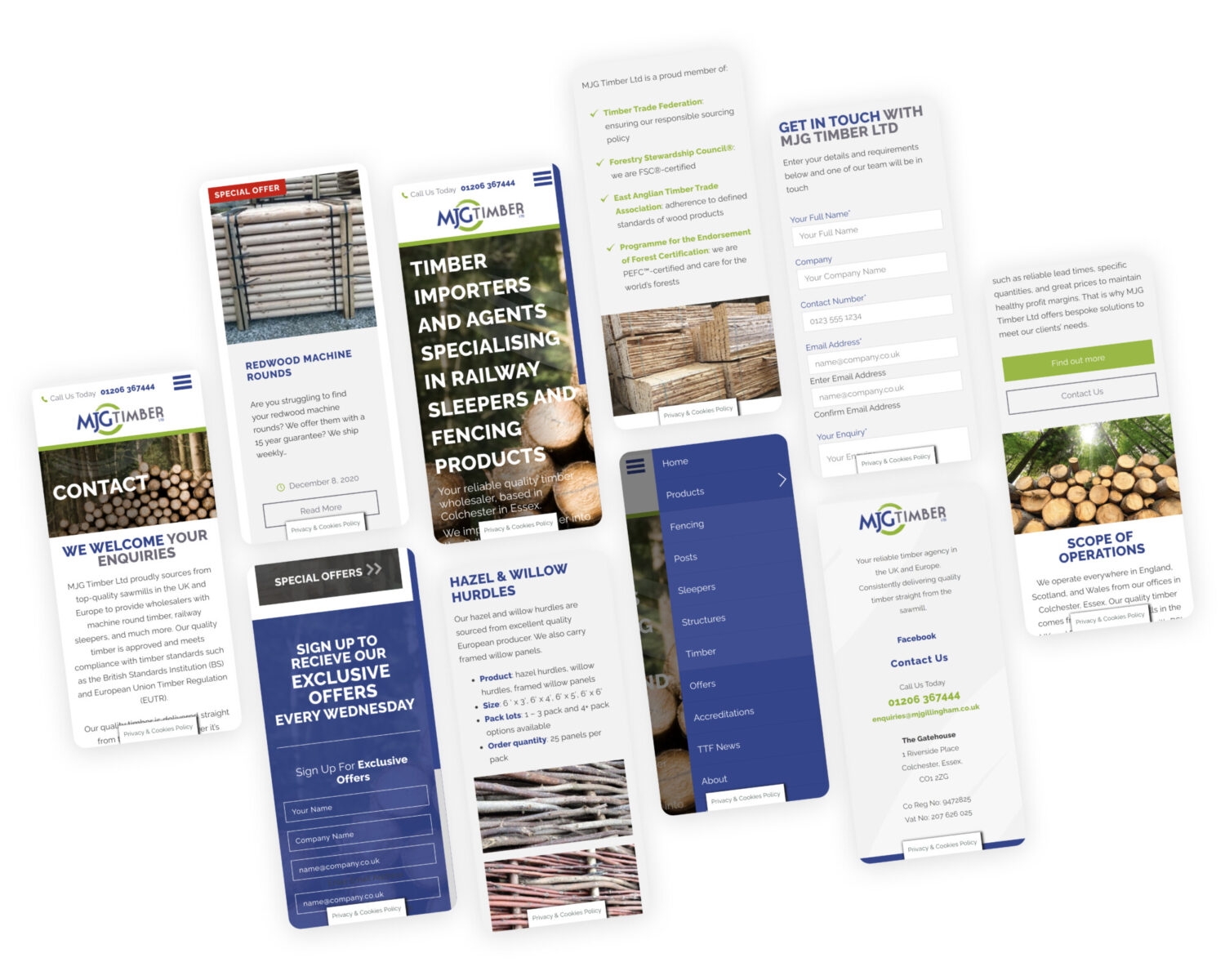 Our role in cementing MJG Timber as a long-serving timber specialist
Our team has worked in close collaboration with MJG Timber in recent months to help redefine how their business is perceived online. As an experienced timber specialist for more than four decades, the client needed a new bespoke website design that accurately represented the company's expansion and its specialisms.
Prospective clients needed to be able to browse all available products with ease. An image-led approach to our landing page designs has since enabled site visitors to visualise their end products. The use of professional photography has also captured the premium grade materials that MJG Timber works with, cementing them as a business underpinned by quality and sustainability.
Bespoke responsive design
First and foremost, our web design and development team recommended a new, fully responsive website design. Given the value Google places in mobile-friendly websites, this was essential to maintain and enhance MJG Timber's presence in the major search engines and capitalise on the rise in mobile search traffic.
Intuitive back-end website management
A key objective for the client's website redesign was to ensure the new site was easy to manage in the background. Although its purpose was to become a contemporary brochure site for MJG Timber, rather than a fully fledged ecommerce site, the client was delivered with back-end that is easy to navigate and edit landing pages ad-hoc.
Image-led approach to demonstrate expertise
When it comes to articulating the premium quality of timber used by the client, a picture can tell a thousand words. That's why we embedded professional photography of MJG Timber's full product range. The imagery not only conveys the calibre of sustainable timber available, but the design possibilities when using it.
More Client Experiences
From day one, our expert team of designers and developers
Results-driven digital marketing agency
We are a results-driven agency focused on Driving you revenue