L2 Digital
L2 Digital is the online arm of Latent Digital Solutions Ltd. It specialises in the B2B sector, supplying state-of-the-art printers and photocopiers to small and growing businesses nationwide. The company offers a click-to-buy online service for its supply of printers, copiers and multifunctional devices. L2 Digital is a Ricoh Gold Service Certified Partner, which underlines the brand's expertise and knowledge of Ricoh devices. Its service-led plans also enable business to only pay for what they use for the most cost-effective printing solutions.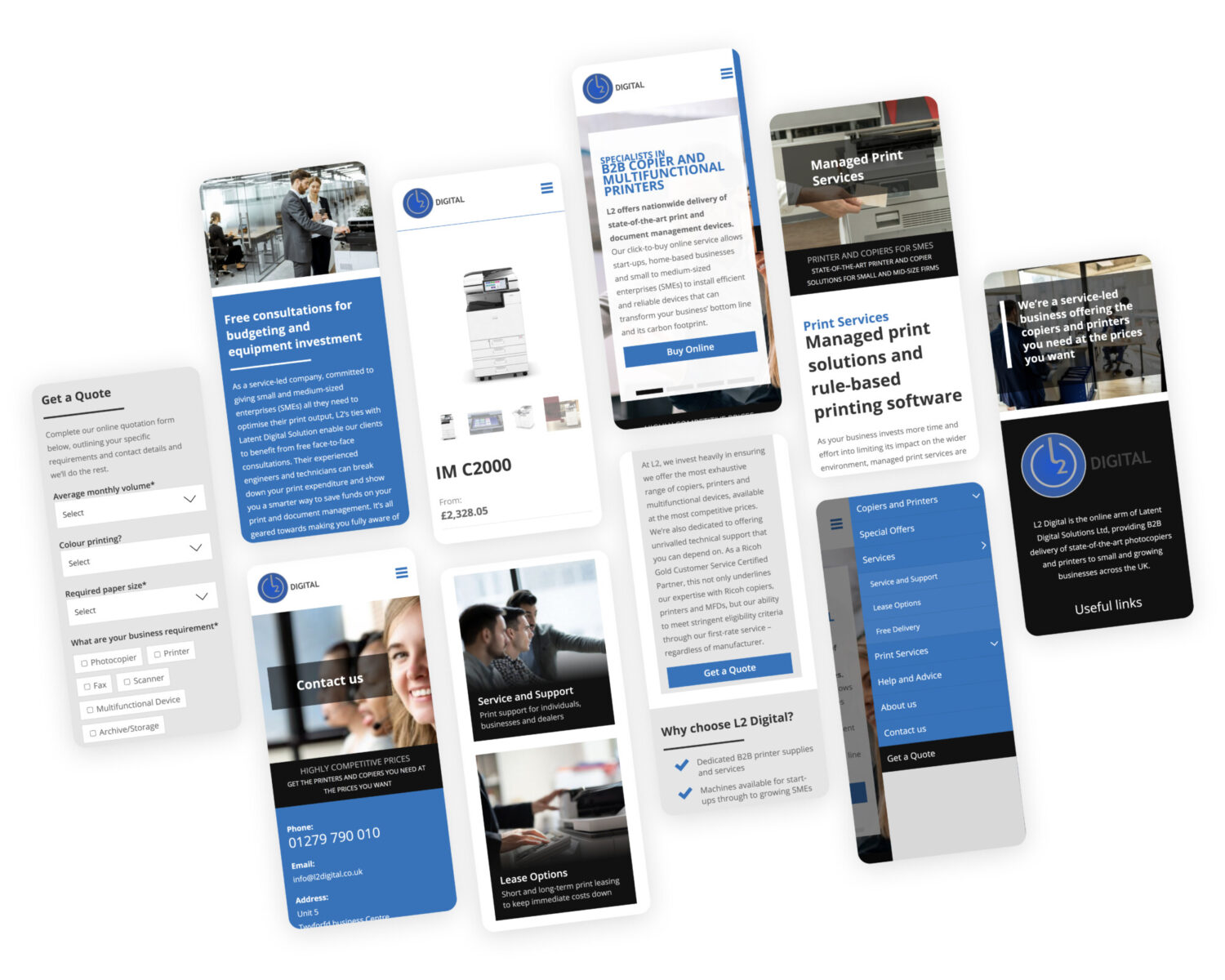 Our role in cementing L2 Digital as an e-commerce force
Unity's web development team collaborated on a new premium WordPress template design which accurately reflects the L2 Digital brand and its core service offering. The image-led e-commerce site showcases all available click-to-buy products, including detailed product pages and descriptions with clear calls-to-action to optimise conversion rates.
Aside from conversion-focused product pages, the website also features a raft of service-led pages, designed to articulate expertise using distinct USPs and on-page content.
Creating a new avenue to sell direct
One of the primary objectives of L2 Digital's revamped website was to incorporate e-commerce functionality that would enable the brand to sell to consumers and businesses direct. Our premium templates are compatible with e-commerce features that make it easy to add and remove products in the back-end inventory.
Fully responsive user experience
The previous L2 Digital website was not fully responsive. The end result was a disjointed and often frustrating user experience on mobile devices. Our new templated solution for L2 Digital guarantees optimised user experiences, regardless of device and screen size.
Geared towards driving conversions
Aside from improving brand awareness, the new L2 Digital website needed to simplify the conversion process to drive increased online revenues. Our e-commerce plug-ins are compatible with any type of landing page, making it possible to turn visits into sales at the touch of a button.
More Client Experiences
From day one, our expert team of designers and developers
Results-driven digital marketing agency
We are a results-driven agency focused on Driving you revenue