Custom Outdoor Living
Drawing on the knowledge and expertise of three generations of cabinet makers and builders, Custom Outdoor Living helps homeowners embrace outdoor living to the full. Designed for everyday relaxation, entertaining, and extra-special occasions, their bespoke kitchens and living spaces are custom-made for a perfect fit. From barbecue grills and built-in refrigerators, to bar units for homemade cocktails, this talented team can bring any alfresco idea to life.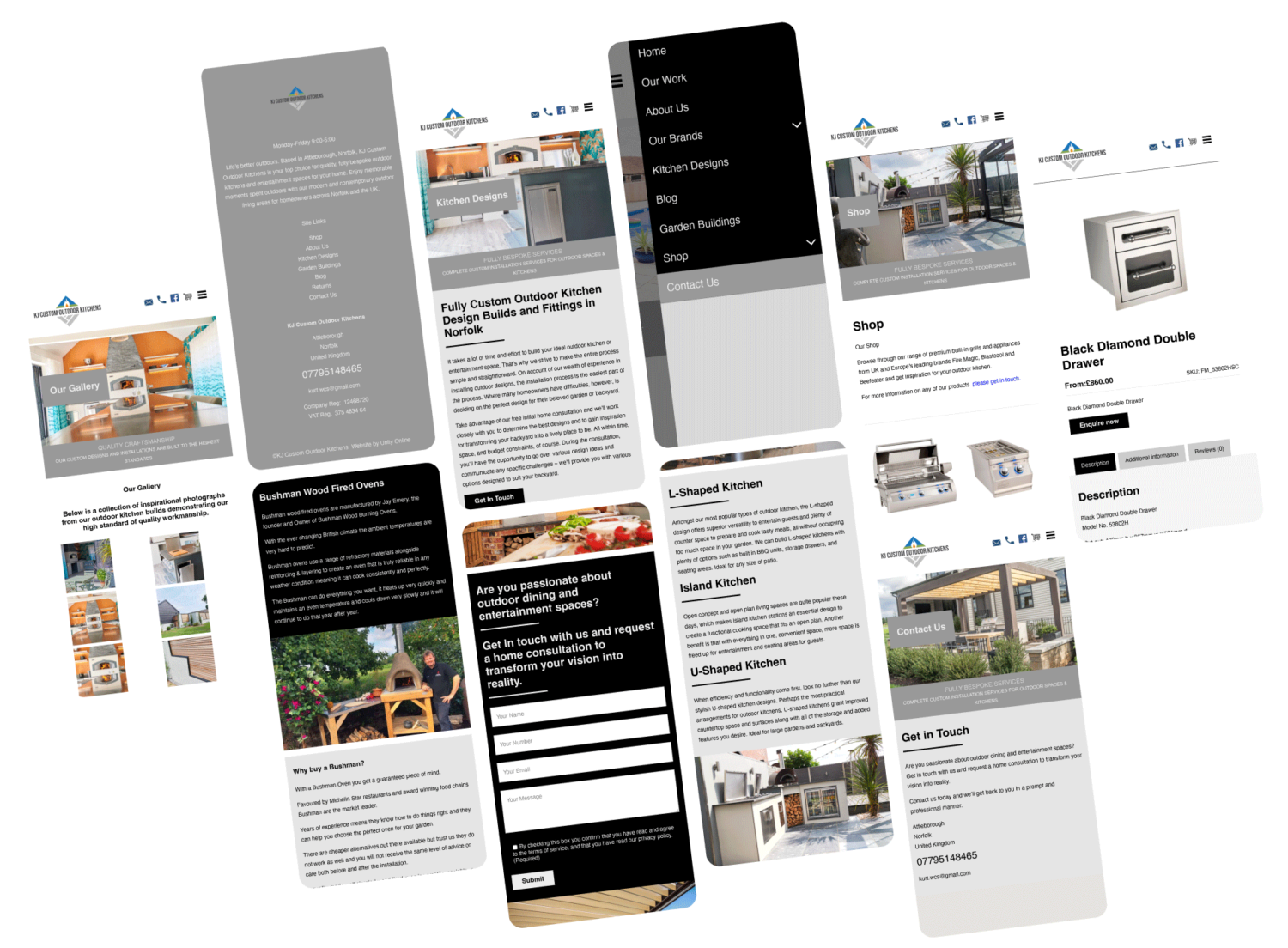 Our role in serving up success for Custom Outdoor Living
A relatively new business based in Attleborough, Norfolk, Custom Outdoor Living asked us to refresh their online brand to match the high-end quality of their products. Having recently rebranded from KJ Custom Outdoor Kitchens, they wanted to broaden the focus of the website to promote an aspirational alfresco lifestyle of enjoying the outdoors.
To capture the imagination of customers looking to transform their gardens, we designed a new website that is packed with inspirational imagery, including an extensive gallery of completed projects that demonstrate the craftmanship on offer. The result is a site that showcases the luxury of a bespoke outdoor living space.
Elevating the outdoor living experience
Despite the UK's unpredictable weather, outdoor living is growing in popularity. With more people looking to turn their gardens into multipurpose spaces, Custom Outdoor Living wanted to tap into this trend by emphasising the lifestyle that a custom-built kitchen can create. We did this by telling the story of that lifestyle through the website, including plenty of detail around the process of turning ideas into reality, and a page exploring the journey and ethos of the brand.
Building a fresh brand
As part of their rebrand, Custom Outdoor Living have continued to update and adapt their template website. Because we design our websites to be futureproof, the client has been able to add more high-quality imagery that shows off their premium craftmanship as well as video content to allow customers to explore their designs in more detail.
Scaling back the online shop
Ongoing supply chain issues mean that ecommerce is not currently a priority yet remains important for SEO and future-proofing the business. We made space for the online shop while placing more focus on promoting partnerships with other brands, including Renson, who make pergolas and patio covers. The shop functionality is in place for when stock availability improves, meaning Custom Outdoor Living is ready for growth over the coming years.
More Client Experiences
From day one, our expert team of designers and developers
Results-driven digital marketing agency
We are a results-driven agency focused on Driving you revenue