Green Gardener
Green Gardener is the UK's biggest supplier of Nematodes and natural pest control solutions. As a well-established family business spanning two generations and over 26 years, Green Gardener advises keen gardeners across the UK, providing organic solutions to amateur gardeners through mail order and, more recently, online. The brand's natural pest controls and environmentally friendly gardening products are increasingly currying favour with consumers across the country.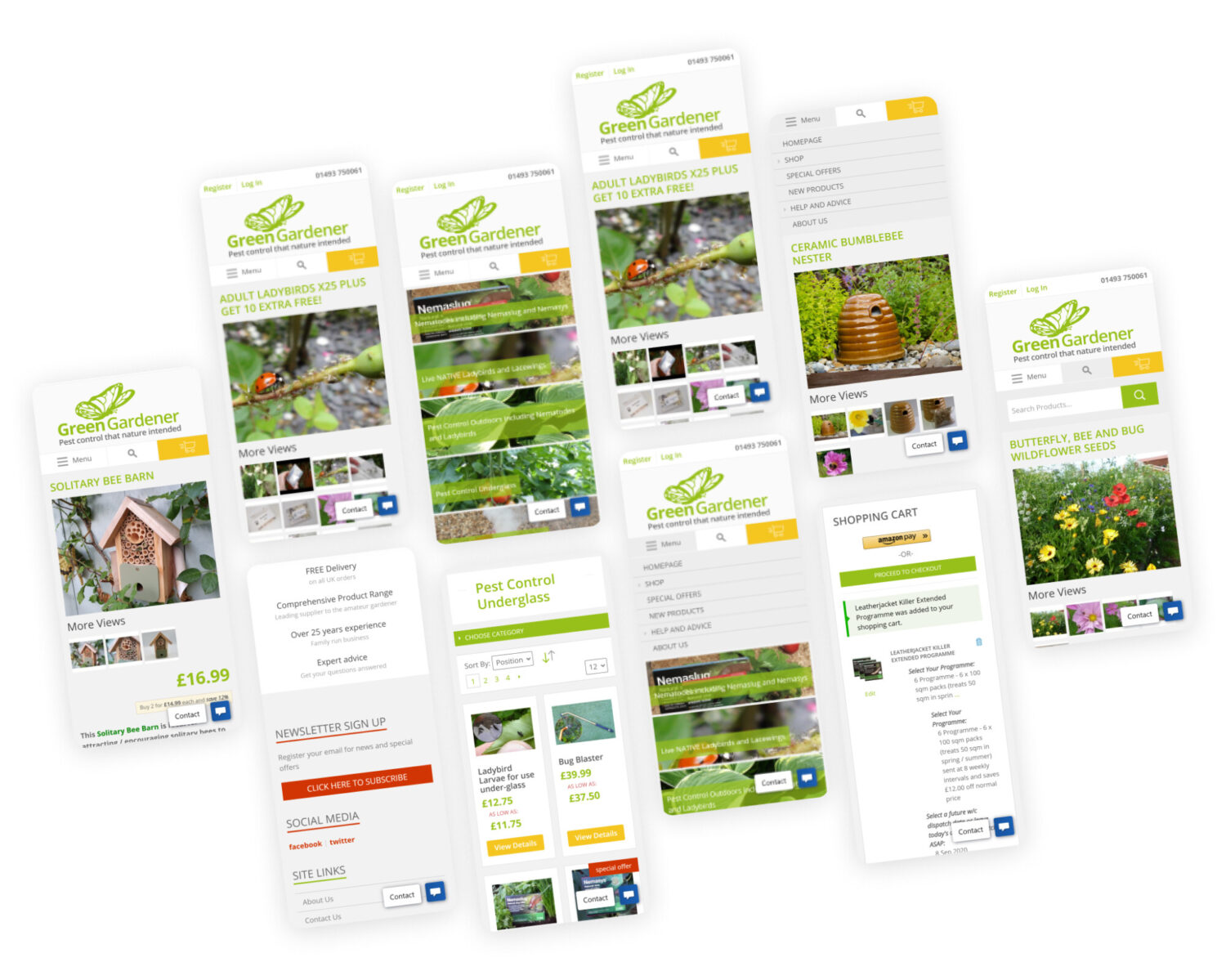 Our role in redefining the Green Gardener user experience
The original Green Gardener website was almost 15 years old at the time the brand came to Unity Online for digital support. Previous digital marketing campaigns had failed to deliver the revenues expected and we recommended a comprehensive website rebuild to futureproof the Green Gardener brand for ecommerce.
Our new conversion-focused ecommerce website has since helped the brand to simultaneously grow its sales and overall revenue. The new online shop is easy to navigate, image-led and offers a consistent user experience on desktop and mobile screens.
212%
YoY increase in web traffic
67%
YoY growth in online revenue
90%
YoY rise in the number of transactions placed online
More than a two-fold rise in organic traffic
Between January and September 2019, the Green Gardener website generated approximately 43,604 individual web sessions. 12 months later, we have managed to grow that number more than three times that amount to 136,038 sessions. Given that these are sessions from organic traffic, the site has also achieved plenty more from targeted PPC campaigns.
Establishing Green Gardener as a major e-commerce brand
The primary objective of the new Green Gardener website was to increase sales. The new website, which was built on the powerful and highly customisable Magento platform, ported across all on-site content from the original site to maintain consistent product descriptions.
Revenue growth from 2019 to 2020
During the first year after go-live of the new website we saw a 89.80% rise in online transactions, we were also able to drive a 66.93% increase in year-on-year online revenues. All of which have helped to cement the client's ecommerce offering and demonstrate the long-term potential in natural pest control solutions to a broader customer base for Green Gardener.
More Client Experiences
From day one, our expert team of designers and developers
Results-driven digital marketing agency
We are a results-driven agency focused on Driving you revenue