Fieldens OTR
Fieldens OTR has been specifying and supplying industry leading tyres and wheels for vehicles for almost 40 years. The company boasts over 60 years of combined expertise in wheels and tyres suitable for industrial, agricultural and construction use. Situated near Stowmarket, Suffolk, the family-founded business was eventually acquired by American tyre firm OTR in 2018. Since the takeover, Fieldens OTR remains a customer-focused company, committed to delivering the same level of service expected from family businesses.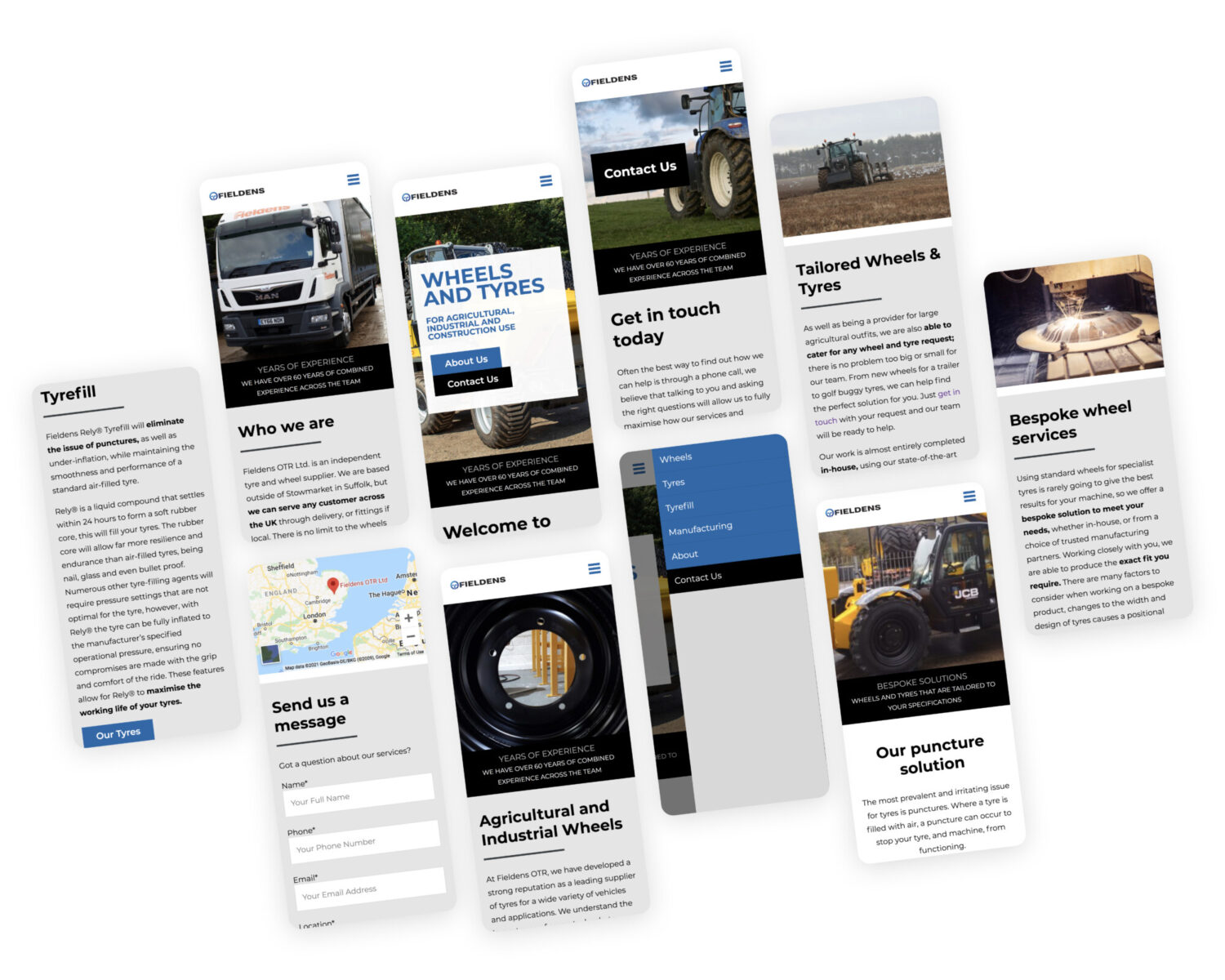 Our role in transforming the presence of Fieldens OTR  in the major search engines
During initial consultations with the client, it was determined that a new website was necessary, complete with search marketing support. The company lacked online enquiries, due largely to its minimal SEO presence. Our in-house web designers and developers put together a premium templated site that would better showcase the brand's products and services.
Our premium WordPress-powered templates offered a cost-effective solution to the client, delivering a fully responsive brochure site that performs to our exacting SEO standards. Every landing page is fully optimised for all relevant search terms, covering localised and industry-wide keywords.
Fully responsive premium WordPress site
Given the perfect balance between cost and quality, our premium WordPress templates were recommended to the client to futureproof the company's online presence. These templates – designed exclusively in-house – are fully optimised for page load speeds and intuitive user experiences to transform on-site conversions. The content and image-rich template delivers a consistent UX on both desktop and mobile devices.
Service-led approach
The main objective of the new Fieldens OTR website was to deliver a better calibre of online enquiries. Improved visibility and explanation of the brand's services was necessary, with service-led landing pages outlining industry-specific expertise and incorporating prominent calls-to-action.
Local and SEO strategies to increase brand awareness
Our in-house search marketers have since embarked on highly targeted local and national SEO campaigns. This approach will simultaneously raise awareness of the Fieldens OTR brand nationwide and meet the needs of local searchers, given the company's increasing capability to serve businesses across the UK.
More Client Experiences
From day one, our expert team of designers and developers
Results-driven digital marketing agency
We are a results-driven agency focused on Driving you revenue