Eden Clay
Experts in bespoke curated wooden tiling and flooring, Eden Clay produces and sells unique wood flooring solutions nationwide. This customer-centric company has long held a passion for divergent products, which has inspired the innovative and unusual wood flooring solutions that are fitted by the team's in-house specialists. The result is design-led flooring features and restorations bespoke to homes and workplaces, handled from conception to completion.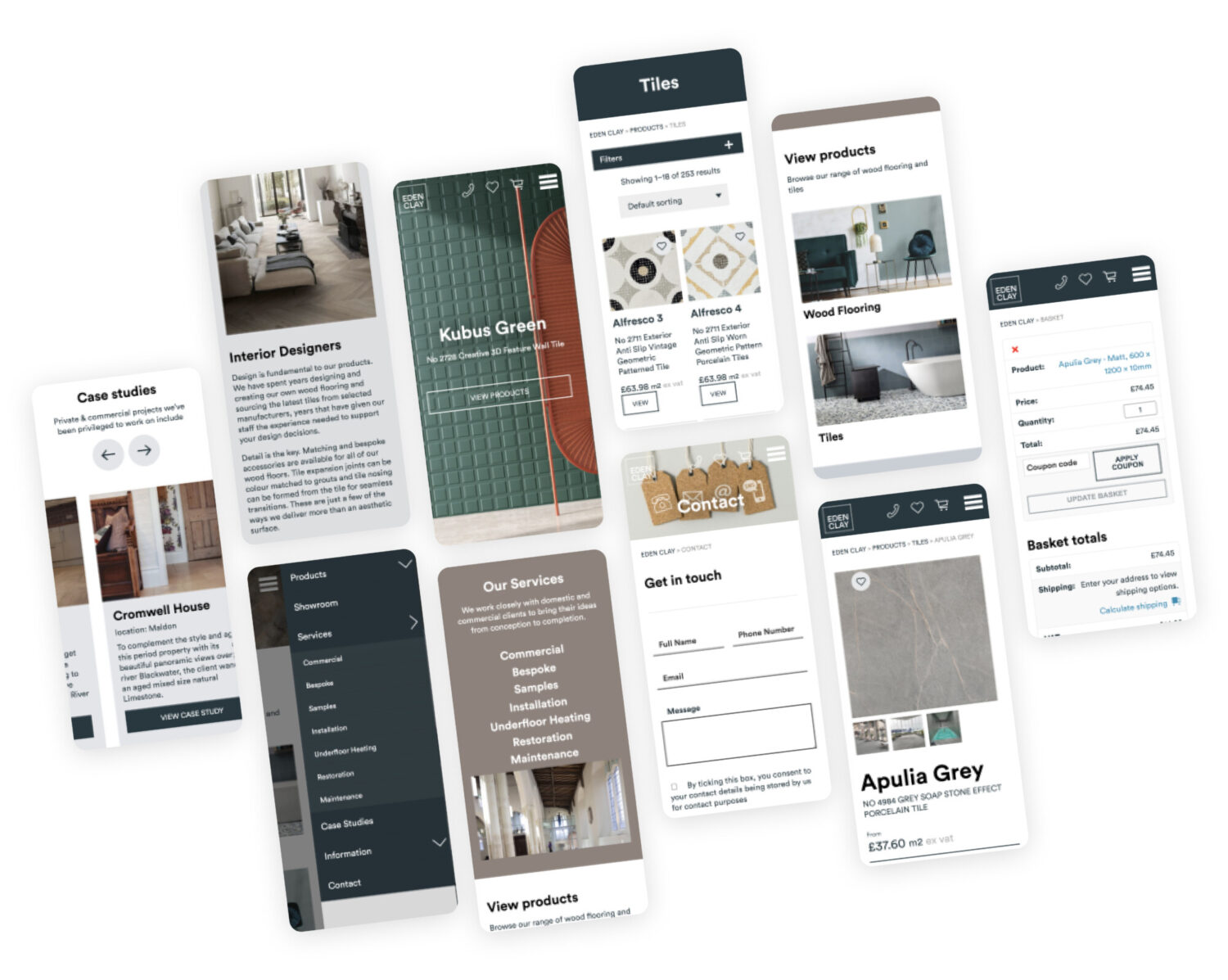 Our role in redefining the Eden Clay brand experience online
The team at Eden Clay approached us with a clear remit to reshape the user experience of its previous website. A bespoke, fully responsive redesign followed, showcasing the client's full range of spectacular materials and designs, as well as case studies of its innovation in residential and commercial environments up and down the country.
The new website was not only designed to make it easier for visitors to learn more about the client's specialisms, it was also built to foster online sales. Ecommerce integration was essential, in tandem with an intuitive inventory management system which would make it easy for the client to get quick and easy oversight of stock levels.
Integrated inventory management
With an abundance of wood flooring and wood tile products to choose from online, the client required an inventory management solution. This was integrated into the back-end of the new website, providing a real-time picture of stock levels. All of which was designed to help the client deliver exceptional customer experiences.
Brand-led responsive design
A key objective of the client's website redesign was to better articulate the brand. The company is inspired by products and materials that its owners appreciate and understand inside out. The classy and contemporary feel of the redesign helps to reposition Eden Clay as unique interior designers and curators, with former clients including the West London home of iconic actor David Gandy.
Ecommerce integration to simplify user experience
Aside from creating an aspirational look and feel to the new Eden Clay user experience, ecommerce integration was equally important to increase revenue from online sales. Wooden flooring and design-led tiles were categorised and filtered based on edition, colour, surface type and format. Shoppers can order free product samples, get a rough estimate of prices based on surface area and add to basket at the touch of a button.
More Client Experiences
From day one, our expert team of designers and developers
Results-driven digital marketing agency
We are a results-driven agency focused on Driving you revenue