DJ Simons
DJ Simons has been at the forefront of the picture framing supplies industry for well over a century. Specialising in mouldings, boards and other sundries suitable for hand-crafted framing and finishes, DJ Simons is an award-winning company founded in 1900. Now in its fourth generation as a family business, DJ Simons is now one of the largest stockists of framing supplies in the UK and distributors of the industry's leading manufacturers.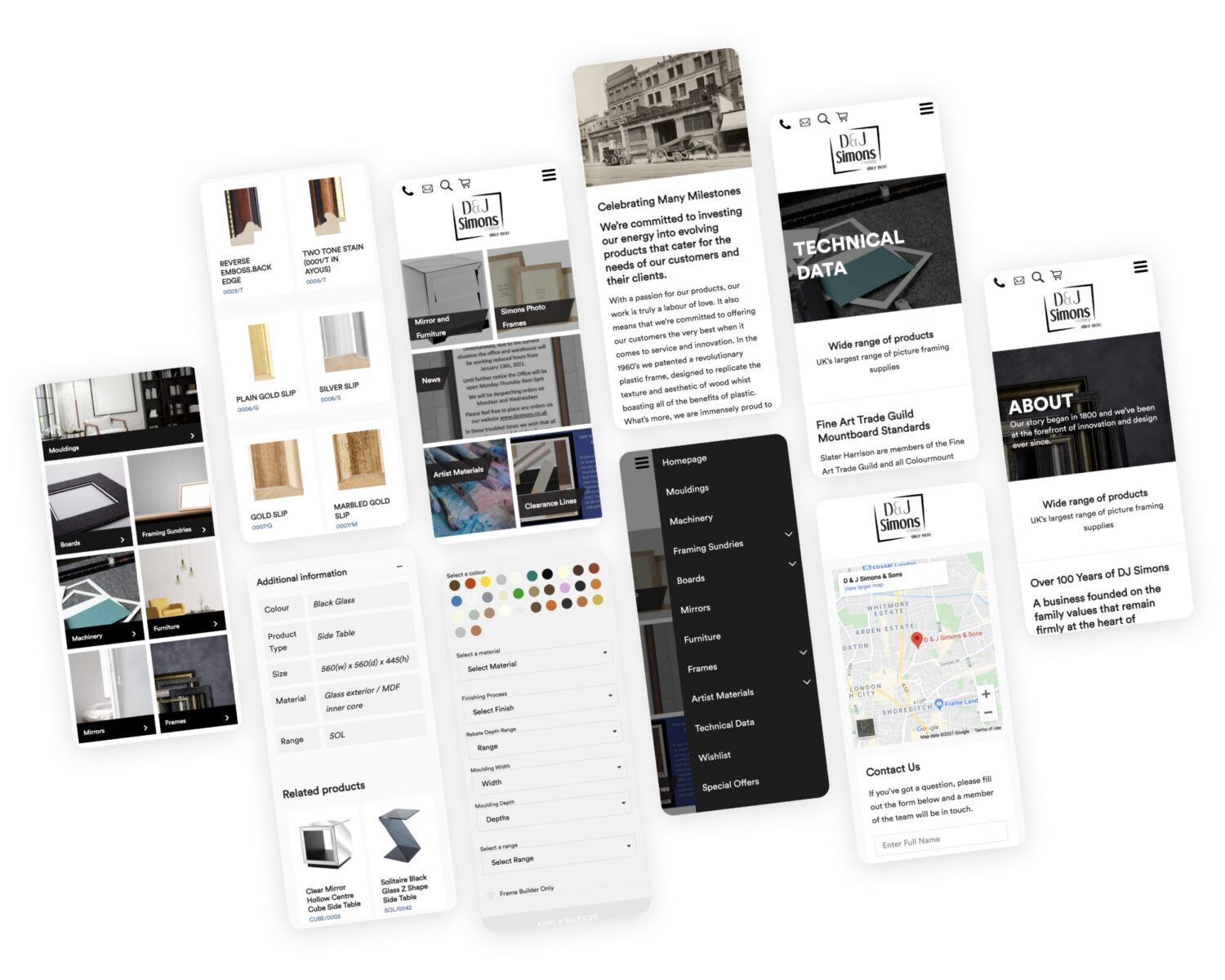 Our role in transforming the user experience of DJ Simons' online shop front
We were approached by DJ Simons with a clear remit to design and build a new, bespoke website that would articulate the brand's personality, whilst improving the intuitive nature of its e-commerce experience for customers. During our early-stage consultations, it was discovered that the client's previous website was difficult to navigate and filter for products for site visitors. Given the company's fluid stock, its old website also proved difficult to maintain and update with new products.
We designed and built a bespoke new website in-house, focusing on a slick and consistent customer journey, designed to remind visitors of all items they might require when framing. As part of our website overhaul, we integrated an intuitive stock management tool which could update in real-time and provide the client with a clear picture of product availability. A 'Frame Builder' functionality will also enable users to create their own frames on-site, but this feature is still to be launched.
Fully responsive bespoke website design
Our bespoke web design not only sets the client apart and defines the brand's personality, it also ensures slick, responsive user experiences on any device or screen size. Our fully responsive theme is designed to help increase on-demand mobile sales from customers.
Back end integration for simple inventory management
Many of our clients opt for bespoke integrations that can give them the edge day-to-day. Thanks to our comprehensive front and back-end design capabilities in-house, we were able to implement a stock management tool to monitor sales and product inventories to better serve customers.
Engaging and immersive 'Frame Builder'
The intuitive Frame Builder functionality is another bespoke addition to the DJ Simons user experience. The tool, which is yet to go live, will enable users to combine the client's full array of picture framing supplies to design and build their own unique frames with DJ Simons.
More Client Experiences
From day one, our expert team of designers and developers
Results-driven digital marketing agency
We are a results-driven agency focused on Driving you revenue