Clarkes Carpets
Clarkes Carpets is the leading independent flooring specialist in Essex. Based in Romford, Clarkes boasts over 50 years of trading history and a proud reputation for supplying and fitting premium quality flooring. Their flooring products span carpets and hard flooring options including laminate, engineered wood and luxury vinyl tiles. The business also supplies other home furnishings such as rugs, furniture, as well as floor, wall and ceiling lighting.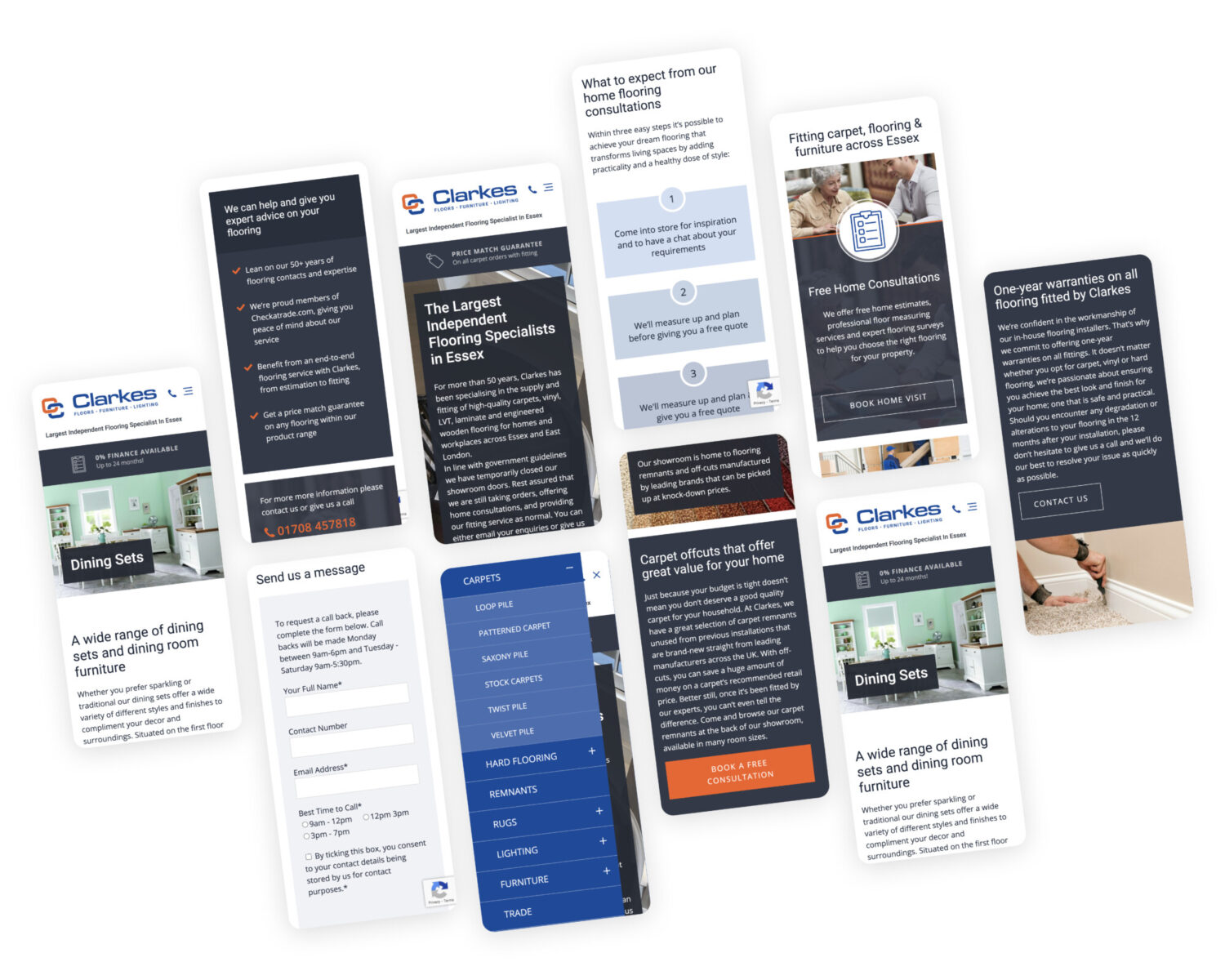 Our role in showcasing the full Clarkes product range online
The client approach us requesting a new bespoke website, capable of demonstrating the broad spectrum of flooring, furnishings and lighting products available. Having been in the industry for well over half-a-century, Clarkes has developed excellent links with suppliers, enabling the business to expand its product range for homes and workplaces across Essex and East London.
Although the client did not require a full e-commerce build, the primary goal was to showcase the products available in-store and drive increased footfall through the door. The new, fully responsive design works flawlessly on both desktop and mobile devices, making it easier for mobile searchers to find out more about the business at the touch of a button.
Fully responsive bespoke website design
Our in-house developers worked in close collaboration with the team at Clarkes to design and build a bespoke website to complement the brand and its product range. The new site not only simplifies the lead generation process, attracting enquiries for home consultations at the touch of a button, it is fully responsive. This delivers consistent user experiences for those browsing on smartphones and tablets.
Image-led approach to product promotion
Given that the client's products and services are geared towards transforming interior designs, it was agreed to take an image-led approach to the new site's landing pages. The use of professional photography helps to demonstrate the aesthetic possibilities for potential customers.
Improved local SEO strategy
The team's local SEO experts executed a new and improved strategy alongside the new website launch. A localised focus has been applied to all goods and services throughout, ensuring improved site visibility for location-specific searches within a radius of its Romford store.
More Client Experiences
From day one, our expert team of designers and developers
Results-driven digital marketing agency
We are a results-driven agency focused on Driving you revenue