Caribbean Blinds
Caribbean Blinds is a business dedicated to external shading solutions for over 33 years. Specialising in luxury shading systems, manufactured and assembled from its state-of-the-art Suffolk factory, Caribbean Blinds has developed a proud reputation for transforming the usability and aesthetics of a wide range of outside spaces. From stylish patio awnings that offer immediate shade and shelter, to innovative external blinds that act as natural air conditioning, the company has been helping homeowners achieve year-round use of their outdoor space for more than three decades.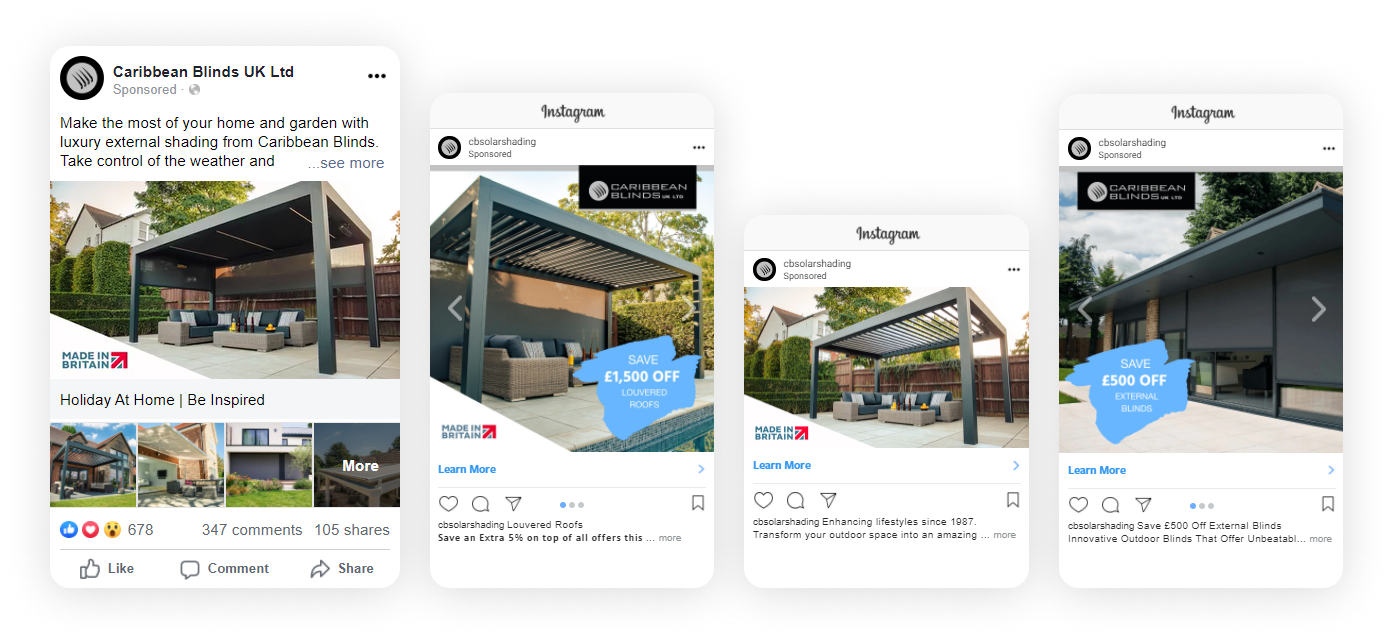 Our role in extending the reach of Caribbean Blinds online
During the early stages of our working relationship, the client was in the process of developing a new website. Our core objective at the time was to ensure the swift migration of content from its three original separate sites into its new overarching site – without impacting on the brand's search authority and positioning. Our search consultants developed a comprehensive site map to utilise all existing content and deliver phenomenal organic results to date.
Since then, we have worked in close collaboration with the client to design and execute a combined SEO and PPC strategy that's not only improved search authority and rankings but enhanced the brand's reputation amongst its target audiences.
178
Leads generated using conversion-focused PPC landing pages and Facebook
103.7%
YoY rise in the number of visitors to the site
Adding on extra dimension to the client's organic search presence
As the client's long-term plan was to combine three separate sites spanning their core specialisms into one website, our remit was to ensure the new portal would quickly acquire the same authority and retain the same keyword rankings. Our search consultants have not only maintained the organic search performance of the new website, it has excelled above and beyond the client's initial goal rankings.
Cross-platform paid advertising surpasses lead generation targets
By combining a comprehensive SEO strategy with paid advertising campaigns across Google and social media, our team was able to drive cost-effective leads. Our bespoke PPC landing pages were designed with optimised conversion rates firmly in mind. On average, the team has been generating 178 leads per fortnight across these PPC landing pages, as well as Facebook's lead ads forms and its Messenger service.
Maintaining the brand's positioning during the lockdown period
The quarter between March and July 2020 was an unsteady time for most retailers. Our team utilised the client's PPC campaigns to not only maintain traffic during the lockdown period but improve the brand's positioning in the search engines and extend its reach across its target demographic.
More Client Experiences
From day one, our expert team of designers and developers
Results-driven digital marketing agency
We are a results-driven agency focused on Driving you revenue