Bolton Brothers
Bolton Bros. has grown to become one of East Anglia's largest family-owned recycling and waste management experts. The Suffolk-based business, established by Michael Bolton Sr in 1969, operates two state-of-the-art recycling centres in the county. Through the decades it has established itself as one of the innovators on recycling and waste management in the region and recently celebrated its 50th anniversary.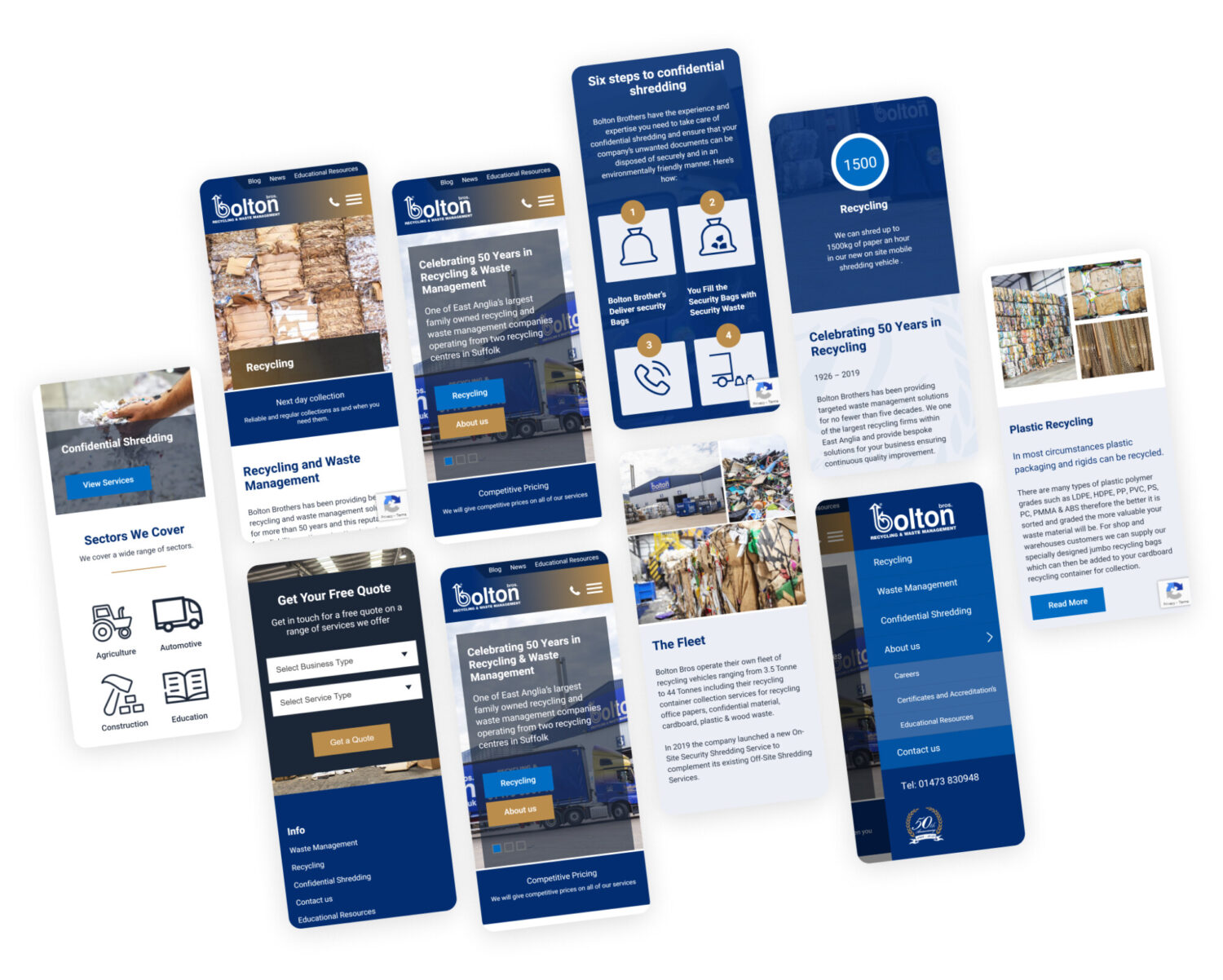 Our role in cementing Bolton Bros at the forefront of recycling and waste management online
In an increasingly crowded marketplace, Bolton Brothers came to Unity Online to help their business better communicate its unique selling points online. As one of the longest standing family-run waste management and recycling businesses in Suffolk, it was important to convey the brand's four key USPs on-site – spanning its industry experience, its paper recycling capabilities and its collection services.
By combining a clear brand message with conversion-focused landing pages – fully optimised to attract relevant, high-quality organic traffic – it's easy to see why monthly organic visitors have risen by over 38% year-on-year.
600%
YoY growth in organic conversions since website launch
38%
YoY rise in monthly organic traffic
A new bold and user-friendly website
To improve the client's presence online and raise awareness of its recycling and confidential shredding services, we recommended a brand-new website. We designed and built the new platform with an intuitive, user-friendly structure, focusing calls-to-action and unique selling points clearly above the fold to optimise conversion rates.
Transformation of the client's conversion rate
Since the launch of the new Bolton Brothers website in October 2019, the site's average conversion rate for all visitors has risen from 1.38% to 7.23%, representing a 450% increase in 12 months. Conversions purely from organic traffic have also increased by 600% too.
Driving high-quality traffic via PPC and SEO
We have been able to drive relevant, high-quality traffic to the new website due to the improved user journey and our ongoing SEO and PPC campaigns. The fundamental website structure has created opportunities for further optimisation, allowing our search strategists to learn from user behaviour and pair this with targeted paid ads to achieve seasonal commercial objectives.
More Client Experiences
From day one, our expert team of designers and developers
Results-driven digital marketing agency
We are a results-driven agency focused on Driving you revenue